How to Tweet Blog RSS Feed via HootSuite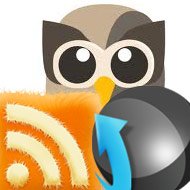 I wrote something before about why I feed my Twitter with my list of Most Trusted Bloggers, it was my simple way to show appreciation to all my friends and fellow bloggers who have been working hard on their blogs to deliver quality content. I am using HootSuite to feed my multiple Twitter account with blog RSS feed, probably you know that you can simply manage multiple Twitter profiles via HootSuite.
My fellow bloggers asked me if I can publish some tutorial about how to tweet blog RSS Feed via HootSuite, it seems that a few people are messing the proper setup of maybe confused about it, so here you go guys, it's very simple, and  oh! I remember now a very good and informative HootSuite for Blogging Guide at kikolani.com, it's a must read in my opinion, so plz enjoy it!
How to feed blog RSS Feed to HootSuite?
1) Click on the Launch Button to open HootSuit menu

2) Choose RSS/Atom from the drop down menu
3) Add new Feed
The settings popup will open and then you will be able to add a new RSS feed, just click on the button!
4) Last Step: Add RSS/Atom Feed
The add RSS/Atom window will popup, now you can fill the fields as shown below, in this case I am using FamousBloggers Feed as an example:
As you can see above:
I've used our blog RSS Feed
I've told HootSuite to check the feed every 3 hours for new blog RSS feed updates
Only one post to tweet each time
Un-tick the include some post text
I've added RT @FamousBloggers to the tweet
And, finally I pick two of my Twitter accounts to send the tweet
Now, hit save feed button, and.. you are done!
You can add as many blog feeds as you want, and tweet from different and multiple Twitter accounts.
But, Hey.. Don't automate everything in your life, remember to be Human on Twitter!
Some additional explanation
I've told HootSuite to look into the feed every 3 hours, if there are any new blog posts, then HootSuite will tweet it immediately. But I also set my HootSuite settings NOT to tweet more than one post per 3 hours, this means if the blog is updated with 2 posts during the last 3 hours, then only one post will be tweeted.
Another important thing is to un-tick the check button where it says "include some post text in each tweet message", this will give a room for your followers to re-tweet your tweets without messing a few words, also it's not recommended you use the 140 characters, this is how the tweets will look more clean. I add "RT @FamousBloggers", also here you can use whatever you like, maybe something more smarter! But in all cases I recommend adding Twitter ID of the blog you are tweeting from, by this way they will be informed as you mention their Twitter ID in the message.
Do you need some awesome Twitter Tips?
Alright, here is 10 useful picked posts for you:
That's all
Now you are able to share your trusted blogs that has quality content, let HootSuite do the job while you are working or relaxing, or even in a vacation!
Enjoy your tweets and share the love by tweeting this post if you think your followers will like it 🙂