To Schedule tweets or NOT to tweet?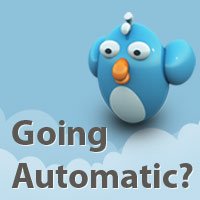 When I first discovered there were APIs that would allow me to schedule tweets, I thought I was in Twitter Heaven. I could schedule a time to tweet everything I wanted ahead time, and I'd never have to worry about missing an opportunity to promote my site. (I can admit that I was still naive and borderline spammy.) So I scheduled my list of tweets and didn't think twice about it…until I noticed a few followers started dropping off.
2 Reasons why scheduling can be a good thing
I was baffled for a moment until I ran across a follower whose profile only had a repeating rotation of the same tweets, posted at the same times everyday from an API. In fact, I couldn't find anything recent that hadn't come from the API. This person hadn't posted anything live in months. Almost everything there was either spam or blatant self promotion. No replies or interactions with other users, no original non-link posts of his own – I began to wonder, is this even real human? And worse, if I continued scheduling all of my tweets is this what people will think of me when they venture to my profile?
As if that wasn't enough of a sign, that very same day someone in my stream posted something to the effect of: "I can't hear you over all these APIs!" I can't remember who said this, but I got the message. It was an eye-opening experience and made me rethink my practices and the purposes for scheduling tweets in the first place. But clearly, there are some benefits to scheduling tweet that your followers will actually appreciate.
1. To allow you to spread your tweets throughout the day so you can stop hogging up the Twitter-stream:
Scheduling tweets can be a good thing, it allows you to spread your tweets over the course of a day without flooding the Twittersphere with back-to-back tweets. I find it annoying when one person decides to dump a thousand tweets in row and then leave. So what you've only got a few minutes to log on, interact and reply to all your @mentions. You're hogging up the airwaves! No one else can get through and really after the 8th or 9th tweet in a row, no one's listening to you anymore anyway.
So schedule your tweets so that you can spread them out evenly so you don't over-tweet in a short period of time. I do this especially when I've got several replies or RTs that I want to post – it allows me to still interact with others, but without dominating all the space. They still see their mentions and no one has to complain because my face keeps popping up and drowning everyone else out.
2. To allow you to tweet during peak hours and tweet while you sleep:
This always you to be more visible at a time when more people are actually there to notice your tweets. If you know you won't be available during those high traffic times, schedule your tweets so that they appear then. But don't schedule them at exactly the same time every single day. It's okay to post a tweet at 5:22pm, it doesn't have to always be 5:00pm. If you have several tweets to post, spread them out – schedule no less than 15 minutes apart. Your followers will thank you for that.
Be careful when Scheduling your Tweets
I must warn you, though: scheduling tweets is not a substitute for authentically engaging others on Twitter, it simply makes it easier for you to do so in the least evasive way. You should still respond to and retweet other's updates/content. At least 50% of what you tweet should be someone else's work, although 60% is probably better.
Which API platform is the best to use for scheduling tweets?
So which API platform is the best to use for scheduling tweets? I've been using www.Hootsuite.com – it's multi-dimensional and allows me also to schedule updates for Facebook and other social network sites. I love it the most because it allows me to have access to all of my favorite social sites in one neat place.
What other valid reasons for scheduling tweets can you think of?
This post is part of our Guest Blogging contest, if you like it then why not sharing it with your friends by retweeting it? this will give credits to the author and a better chance to win one of our awesome prizes.  By the way.. you also can participate in our contest, it's not late!
Thumb image by: cyberella.posterous.com