9 Great Ways to Gain a Competitive Edge Online and Attract New Clients
Even though the Internet has been around for "awhile" now, many businesses are still wondering how to make the best use of the Internet when it comes to marketing their business. I often hear business owners say, "What do I put on my site, how many pages do I really need, will anyone read the content or are they just looking to see if I exist?"
Others say, "Well I have a website but I'm not sure why, because it doesn't seem like anyone is visiting it."
Unless you are a large brand name like Sony or Coca Cola, etc., attracting potential clients to your website takes time and lots of work.
Many people believe that once a website is done and launched, they can leave it alone and people will find it. However, like any step in a marketing plan, a business website requires on-going nurturing and updates to keep it fresh, current and competitive. Updates also remind the search engines that it exists.
Today I am going to share different ways that you can boost the effectiveness of your business website and your overall online presence so that you will attract new customers and gain a competitive edge online.
1. Add a Blog
If you haven't already done so, you can begin by adding a blog. A blog or weblog is an online journal, but for businesses, it's also a valuable communication tool.
It can provide you with a place to communicate with your customers and prospects.
Because blogs are updated often, they tend to get indexed by the search engines quite regularly and attract a regular stream of readers. Every time you write a new post on your blog, you create an opportunity to attract new clients to your business. Blogs can be informative, can provide marketing benefits, and can help you build a larger online audience.
2. Use Photos
A picture does say a thousand words online. Add great-looking photos to each page of your website and blog that relate to your business so that you can enhance your site's appeal.
Whether you're adding pictures of your products or photos relevant to your subject matter, it can help add pizzazz to text on a page.
You might even consider adding videos as well. They can help you add an interactive feel to the site and help you connect with customers on a personal level.
Here is how find free license stunning images for your blog.
3. Add Links to Each Page on Your Website
Many business owners spend a lot of time creating their home page, but many don't realize that every page on your site has the ability to be a doorway to potential customers.
Make sure your navigation menu is clear so that people can easily get around from one page to another on your site. Add relevant clickable links within your content that go from one page to another to help steer people to other pages within your website and ultimately lead them toward purchasing from you.
4. Add an Irresistible Offer for Subscribers
There's a saying in internet marketing…"The money is in the list".
Not everyone will want to subscribe to your website or business blog just because you've put a nice "Subscribe Now" button on it. But if you give them an irresistible offer as a reward for subscribing, you could build a long list of subscribers.
This is where you really need to look at your type of business and be creative in coming up with ideas for an irresistible offer. Your offer could include a discount on your products or services, or a freebie, such as a free eBook based on a topic that is relevant to your products or services.
If a free eBook works well with your type of business, you could look at writing one that is anywhere from 7 to 25 pages long. For example, a massage therapist could write about "5 Ways to De-Stress at the End of a Long Hard Day". If you are thinking you don't have the time to write an eBook, consider hiring a freelance copywriter to write it for you.
Also consider changing up your offer from time to time to attract repeat visitors who are looking for new deals.
5. Update Your Website Often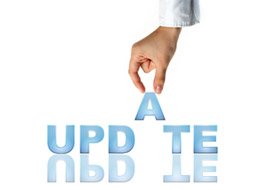 Maybe it was painstaking for you to get your website up and running and looking exactly the way you wanted it to. But once you do, you can't just leave it static, because it won't get much attention.
If you want to gain a competitive edge online, you should add new pages to your site about how people will benefit from your products or services, add new blog posts, and enhance your site. These continuous activities will attract new clients to your website.
6. Optimize for Mobile
Is your website optimized for a mobile audience? What does it look like to someone looking at it on an iPhone or a BlackBerry?
People on the go could be looking for where to have dinner tonight or could be looking for a place to buy furniture, etcetera.
Optimize your website so that it fits on their screen and looks good to mobile audiences (instead of being barely readable), loads fast, and is in readable formats (mobile can't typically read Flash, for instance). You will increase foot traffic to your website.
7. Get Your Local Business Listed on Google Places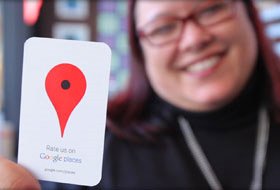 Instead of paying for "Pay Per Click Ads" to advertise your local business on the Internet, setup a free Google Places Listing for your business.
Do a quick search on Google to see if your competition has setup their Google Places listing yet. If not, this could be a quick way for your local business to gain that competitive edge.
For example, let's say you are a dentist in Calgary. When someone types "dentist Calgary" into Google you want your Google Places listing and your website to show up on the first page of Google so that people will find your business right away.
Your Google Places profile should include 5 different categories that are relevant to your business, as well as your business address and a link to your website.
Go to http://www.google.com/places to sign up and claim your free local listing.
Google offers a Google Places app for mobile users as well, and if you're listed, your patrons may also post reviews of your services or establishment for other people to see.
8. Optimize Your Website for Search Engines
Websites aren't always like the Field of Dreams.
The fact that you build a website doesn't mean people will automatically find it and view it.
I've met many web designers over the past 5 years that believe that all a business needs is a pretty website that gets found for their business name when someone looks for them on Google. Unfortunately, that is not correct, and it is a disservice to the website owner. Unless you are a large well-known company, you need to optimize your website based on the products and services you offer, not around your business name.
Optimizing your website for Google and the other search engines will result in more people finding your website when they need your products or services.
Most people look at the first few pages of results when they search Google, Bing, or Yahoo for a product or service that they need.
The right optimization activities will make a huge difference in regards to your website being listed on page 10 or page 1 of the search engine results.
Maybe today you're listed on the bottom of Page 1. Or maybe worse… not on Page 1 at all. There are things you can do to your website to make it more likely to be deemed highly relevant to search engines. That perceived relevancy could equate to a higher ranking that naturally brings new people to your website.
9. Launch a Marketing Campaign for Your Website
There are a lot of online marketing activities that could help you improve your business website and attract new clients as well.
You can improve each page of your site in terms of design and search engine optimization and create a highly attractive unique selling proposition that captures the attention of new clients.
Once you've done that, you can launch an online campaign that includes participating in social media sites like Twitter and Facebook to bring traffic to your site and people to your location.
Other various activities like publishing press releases to announce new products, getting listed in online business directories, publishing guest articles on industry leading blogs, and more could help you become known as the go-to source for whatever it is that you specialize in.
Whether you're a local pizzeria, a plumber, a hotel, or some other business, your business website should play a major role in your overall marketing plan, and when done right, should gain you the competitive edge your business needs to win new clients.