It Seems that Thesis 1.8 is Ready – Here are Thesis Theme Tutorials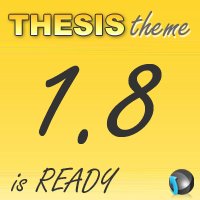 From time to time, I like to check articles on the blog that we have published earlier. I fund out  that we reached 400 articles, I thought it will be a great day when we reach 1000 articles on our blog. I also found that I wrote some nice Thesis theme tutorials since we are using Thesis Theme on our blog.
The good thing is Thesis 1.8 is out, I can see it in my account at DIYThemes.com ready for Download. So, like always, test thesis 1.8 first before you use it, and don't forget to do a backup for your blog data before install it on your blog.
Note: Thesis 2.0 is out, I can see it in my account at diythemes.com ready for Download
You can read about Thesis 1.8 beta and my personal impressions about it's new features.
I thought to collect all these links in one post to make more reachable in case someone is searching for information on how to customize Thesis Theme or add some design elements to their blogs. Tutorial mentioned on this post are written by me, it's all about how I designed FamousBloggers.net blog. I am also thinking to create a special category for Thesis Theme to include all posts in one place.
Some News to share with you
Most of us want to have a unique blog design, it's very important factor of success, especially in a very competitive niche. E.G. the blogging and making money niches. I had more than one reason to start a new project towards blog design and wordPress themes. I was having a small plan, and now after I worked out 80% of my plan, I am thinking to launch my new site in the coming days. I am sure you will like my idea, so.. subscribe to our newsletter, stay tuned, I will pronounce it soon.
The idea of my project is to deliver more skins for Thesis theme users in a form of a membership site, I hope it will help you to create a new and unique design for your blog without spending a lot of money. Basically what I am doing is creating a framework skin for Thesis theme, yes.. it sounds like I will create a frame work of another frame work, but it's not really like that! what I am working on is provide a skin framework, it will help you create several designs from the same skin files by simple knowledge of coding, and even if you don't know how to code at all, it's not a big problem, we will have a good support to help you install and setup your new skin, and give you advise.
Here is my list of Thesis Theme Tutorials so far:
I will start with the #1 my best post ever and meeting with the best thesis designers out there.
Enjoy your time!
I hope you find it useful, till we meet soon to pronounce the new website.
Have a great week ahead everyone.