Is a Custom Design Essential to Your Blog's Success?
Choosing a design is one of the first things you must do when launching a blog. It is also one of the most important. Whether you like it or not, many people will judge your blog by how it looks.
Therefore, you need to ensure that your blog projects the image you want.
You essentially have three options when choosing a new design for your blog:
Free Template
Premium Template
Custom Design
Today I would like to discuss whether a custom design is essential to a blog's success. Before I do so, let's look briefly at how design habits of bloggers have changed over the last few years.
Blogging Design Habits Over the Last Several Years
When I first started blogging in 2006, blog designs were very different to how they are today. It was more common to see hundreds of blogroll links on a sidebar than it was to see banner ads. Most people used free templates. Even popular blogs used basic designs such as Almost Spring.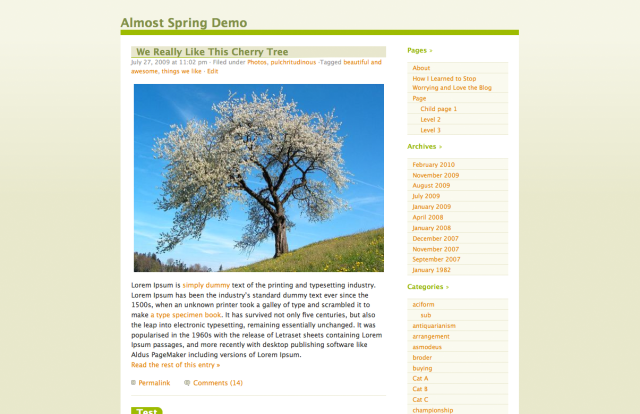 I also used free templates during my first year of blogging, however during 2007 I decided to upgrade the design of my blog BloggingTips.com with a fresh design.
I opted for the Revolution theme by Brian Gardner. It was a hugely popular design at the time and came in a range of different colours and variations. Later, in 2009, his Revolution brand was rebranded as StudioPress; well known within the WordPress community today for their popular Genesis framework.
I also purchased custom designs for some of my blogs during that time as the choice of premium templates was very limited. WordPress was one of the first blogging platforms to develop a premium template market, however it took a few years to develop. Brian Gardner was actually one of the first designers to sell premium themes to the WordPress community in 2007. ElegantThemes didn't arrive on the scene until 2008 and ThemeForest only broke the 100 WordPress themes barrier at the end of that same year (they now have over 3,000 WordPress designs in their marketplace). At the time, most premium designs there cost between $10 and $20.
The growth in popularity of premium themes has changed the whole landscape of blogging. It allowed many bloggers to develop professional looking blogs without spending hundreds or thousands of dollars on something unique. It affected design companies too, as many bloggers who would have spent up to $1,000 on a custom design decided to just modify a $20 template instead.
When premium themes first became popular, there was not a big gap in quality between free templates and premium templates. Sadly, over the years this gap has widened and widened. Within the WordPress community, this was partly due to WordPress's change of policy on footer links. The majority of themes had two, three or even four credit links at the bottom of the page. Most designs were funded by websites who were seeking to increase incoming links to their website. I know this because I used this strategy too, releasing around five or six free WordPress themes in this manner.
When WordPress advised that only one credit link may be added to the footer, there was a big decrease in free designs being released. The rise in popularity of premium templates was a big factor too. Designers no longer had to rely on donations or selling additional items such as support, they now had a way of making a lot of money by selling premium designs directly.
There are still some good free templates available in 2013, however the difference in quality between free templates and premium templates is huge.
Premium vs Custom Designs
One of the main reasons for purchasing a custom design for a blog is to distinguish your website from the competition. Today, this is less of an issue. Users of Tumblr have hundreds of premium templates available to them whilst WordPress users can choose from thousands. As such, there is less chance that another blog within your niche will use the same template (unless they copy you!).
Modern blogging templates come with advanced configuration options that allow you to choose from different layouts and colour schemes. This allows non-technical bloggers to customise their blog design in a way they could not years ago.
I have purchased several custom designs for blogs in the past. Over the last couple of years I have opted to purchase custom designs less and less. Not only is there a bigger choice of premium templates today, the templates are so much more advanced than they were years ago.
Many of the premium designs available for WordPress are selling for only $40, however if you were to hire a design company to design something similar it would cost you thousands of dollars, perhaps even tens of thousands of dollars. The huge market for premium templates means that many designers have withdrawn from designing custom themes altogether. It is difficult to blame them. The money that top designers can make from launching their own theme store or selling designs through a theme marketplace is huge.
Take ThemeForest for example. Authors start off earning 50% of sales, sliding up to 70% once they have reached $75,000 in sales. The top selling WordPress theme sells for $55. That particular design has sold more than 28,500 copies, which means that one theme has made over $1,000,000 in sales.
Obviously not everyone makes that kind of money, but the potential is there. So it is not difficult to understand why less designers create custom designs today. Why spend a month designing a theme for $10,000 when you could sell it directly for $40 or $50 and make $50,000, $100,000 or $500,000? It's a no brainer.
This means it is very difficult to get a high quality custom design for $1,000 or $2,000. You can get good looking designs through design contest websites such as 99Designs, however it is doubtful they will offer advanced functionality (i.e. you will get a good looking design based on a free template). Therefore, you could find yourself spending a few thousand dollars on a custom design, only to find it has less functionality and a poorer design than a template which would have cost you $50.
Due to this, my own preference is to purchase premium templates and then modify it myself or pay for someone to modify it for me. It does not always give me exactly what I want, though it comes close; in part due to modern blog templates offering so many configuration options.
Is a Custom Design Essential to Your Blog's Success?
I used to be of the opinion that a custom design was an essential part of developing a successful blog. When I launched my last major blog three years ago, I launched with a custom blog design that cost me around $1,500. After using that design for a year or so, I switched to a $50 premium template because my custom design felt dated.
In hindsight, launching the website with a custom design did not help me develop the blog any quicker. There not many suitable blog designs available at that time, which is part of the reason why I wanted a custom design. However, I am sure I could have modified a premium template to fit my needs. Had I done so, I could have spent that $1,500 on something else. For example, I could used the money to host a big competition or hired bloggers to write some quality articles for me.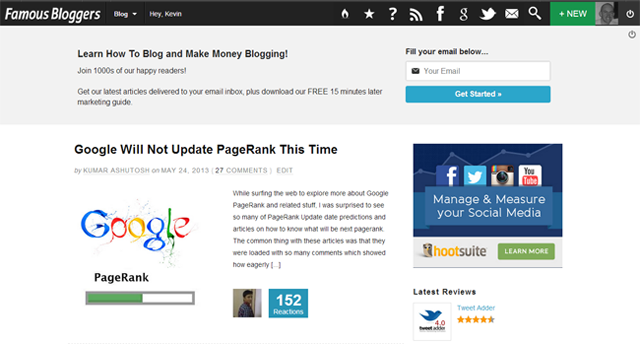 If you take a quick look at the top blogs within your niche, you will find that most of them have unique blog designs. This would suggest that a custom design is essential to a blog's success, which is is not necessarily true. A blog which uses a good free template or good premium template could potentially become hugely successful if it was marketed well and the content was great. From what I have seen over the years, this rarely happens. Once a blog reaches a certain level of popularity, the owner always has a custom theme developed.
The reason for this is simple: A custom design allows them to create the perfect theme. 99% of the time you choose a template for your blog you are making sacrifices. You may find a template that has most of the things you need, but it is difficult to find a template that has everything. Having your own theme created allows you to have everything you want and need.
As to whether a custom design is essential to a blog's success, I believe that it is not at the start of your blog's life. If you have a big budget, it could be worth investing in a custom design from the start of your blogs life, however I do not believe that this is essential. You can use a professional looking template until your blog has been established. That will cost you around $50 and the money you save could be used to market your blog or bring in some good writers to help you publish quality content. Once your blog is generating a steady income every month you can then look into having a unique design developed.
One size does not fit all, however for most of us, I strongly believe that keeping costs low at the beginning of a new blog project will help you direct funds to more important things. Once your blog is making a few thousand dollars a month, you should start looking into getting a custom design developed.
What is your view on this issue? I'd love to hear your thoughts on the importance of blog design and whether you use free templates, premium templates or custom designs. Also, if you enjoyed this article, I encourage you to subscribe to Famous Bloggers via RSS, Facebook, Twitter or Google+. Doing so will ensure that you do not miss any future articles.
Thanks for reading,
Kevin