After a long wait, Thesis 2.0 came out. So, I thought while testing it out for the first time, I should share my thoughts about it in a detailed review. You can also read my other Thesis review for 1.8.5 that I've published a few months ago on the blog, so do you know the main differences between the old release vs the new Thesis 2.
FYI, you are reading the first Thesis 2.0 review on the web, I've checked and found a couple of reviews that has been written before the theme was released, I don't know how, funny though! People are trying to sell you what they don't know about! So, I decided to make this review very detailed, so expect a long read.
To start with this review, I decided to install Thesis 2 on a fresh WordPress installation, so then I can test it out and have some fun before getting into the bottom of it. I keep reminding myself that I have to upgrade all my thesis skins to work with the latest version of Thesis to support my happy clients.
So, that's my goal now. However, I may not upgrade anything, I maybe decide to go with another approach!
For example keep developing the old version of the skins for Thesis 1.x, and develop new skins for Thesis 2, especially that DiyThemes team decided to keep developing both versions, so if they function differently, why bother?
That's what I will discover now!
How to install Thesis 2.0
The installation process is pretty simple, just like any other WordPress theme. Yes, for the first time, you can install Thesis within the WordPress Themes uploader, then activate it. No FTP is required, neither the annoying file permissions change that is a must in Thesis 1.8.5, pretty cool.
However, I note that Thesis 2.0 show a blank page when you try to preview the theme before activating it. So, basically you can't use the Live Preview to look before you leap! So, let's go a head and activate Thesis 2.0
Here is what you get… Boom!
You will get a new website inside your dashboard 🙂 this is cool though, and I can see there is a new menu on the top with a few tabs, which make me think of a bunch of features. Also, I noticed that all sidebar admin menu items under Thesis has gone.
The only thing I don't like is the "Click to get started!" button is not aligned from the top, and the notifications has no padding, small things, but didn't expect them!
Anyways, let's hit the "Click to get started!" button so we can read how to get started with Thesis 2 …
You will be taken to a new screen that show the progress of installation, that was super fast, and looks like the installation was a successful.
Now, let's do the next step which obviously clicking on the "Return to Thesis" link, so let's return to Thesis…
Once you click on that link, you will be taken back to the main Thesis dashboard, but now you can actually read the instructions on how to get started with the theme. Basically that page has all the basic that will help you get started with the theme, so make sure to go through it to the end.
Thesis Tips by Chris and Missieur
After a few clicks on the admin page, you will realize that Chris and Missieur are giving you some cool tips, introducing new Thesis functions, and even share some history lessons about Thesis. Actually, you will discover that Missieur knows a lot more than Chris!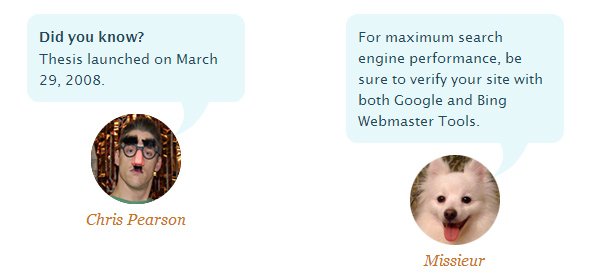 I've never seen this before in any other theme options page,  good to see you guys 🙂
Site Options →
Now… Let's go through Thesis 2.0 settings starting from the Site options:
Thesis HTML Head
The Thesis HTML Head tab has everything related to the Head area of your site, it's really cool, especially that you can drag and drop every single element to simply change its order. Also, you can make a shift + drag boxes to remove them from the page.
Here… I am wondering what's the big deal about ordering the Head elements?! I really don't know!
On the right side, you can verify your site in Google and Bing, plus get your Google authorship ready by adding a rel="author" tag, this tag will show on every page of your site, it's simply as entering your Google+ ID Number. But, what about multi-authors blogs? If you run a multi-author blog, then you can enter each author's Google+ ID Number on their user profile page. Pretty neat and handy!
Thesis Tracking Scripts
This is the second item in the Site menu, it takes you to a page with a simple form to enter tracking codes to your site. You can enter your Google Analytics tracking ID and the theme will do the rest, and also you can add other tracking scripts.
Thesis 404 Page
Yet another new feature that allows you to use a custom 404 page. This can be done by simple create a new page (normal WordPress page), and add the custom message that you would like to show, then choose it in the 404 options. Very easy and straight forward, probably the best way to create a custom 404 for WordPress.
Home Page SEO
The last item in the Site menu is Home Page SEO options, it's where you should put together an awesome home page title, description, and your main keywords.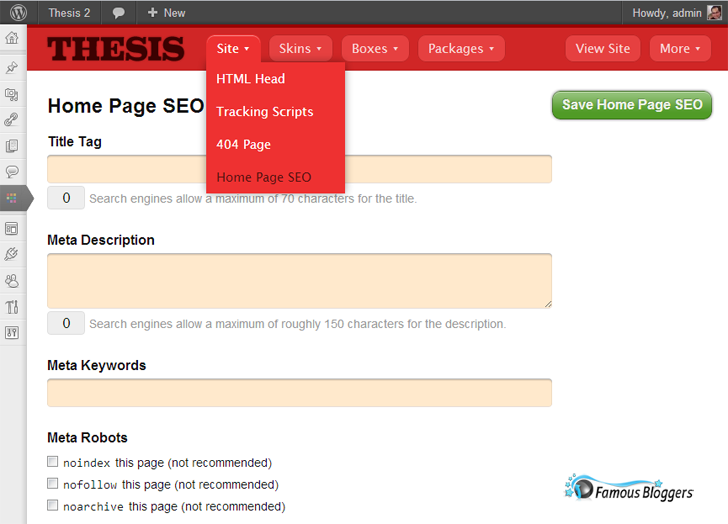 Here… Make sure not to touch the Meta Robots options unless you know what you are doing, as the options page says it's "not recommended", I just can't think of a reason why someone would set no-index to his/her home page, well… of course unless they want to create a retarded website!
I recommend you read this very detailed article about using Thesis SEO Options and Settings.
Thesis Skins →
Thesis 2.0 allows you to install more than one Skin at the same time, on same site, and switch between them, however it doesn't look like you can actually run more than one Skin at the same time.
Select Skin : (Two Skins included)
Thesis 2.0 comes with two Skins, the Classic Skin (the usual Skin that we use on 1.8.5), and another Thesis Blank Skin (basically an empty page) so you can start designing your own blog the way you want it to be from scratch.
The cool thing here is you can preview a skin in the development mode as an administrator, and you can edit the Preview Skin, but your site visitors will continue to see the current Skin that is active on the site. This indeed gives a high level of flexibility while customizing your site.
Thesis Skin Editor
This probably the fanciest piece of code in Thesis 2.0, this may look weird and uncomfortable to some people at the first look, but I assure you, it will be your best friend in a few hours. I am talking here about drag and drop template builder that will save you a ton of valuable time, and gives you the guts to edit your pages' layout anytime.
Do you remember Thesis Open Hook plugin?
The interesting thing here is Thesis Skin Editor killed Thesis Open Hook plugin with its drag and drop, easy to customize, Skin editor.
Remember when we used to add a lot of code snippets to the custom_functions.php file?
In Thesis 2.0, you will probably forget about almost everything you used to do with Thesis 1. Most of it can be done now with only a few clicks or drags/drops!
Now, there is a new HTML editor, a new CSS editor and a new images uploader that will help you forget about the old school of customizing a WordPress blog.
Thesis Boxes & Packages →
This is another story, and probably another level of development has been reached!
Imagine that you now can upload little snippets of code or CSS styles and add them to the flow of Thesis without having to use FTP client again in your life!
You can think of Thesis Boxes as WordPress plugins (this is only an example), and you can say that Thesis Packages are CSS styles that you can load directly via a traditional uploader, then once you have them running, you will have more functionality on the site.
The question now is,  how to make boxes and packages?
Another cool thing about Boxes and Packages is that once Thesis developers and designers catch the idea, you will see tons of them produced in no time!
New Custom Meta Boxes →
Yes, a punch of changes has been made to the Thesis custom meta boxes, I really love these modification because it will reduce your jumping and scrolling, how? Everything set of options that was grouped in one meta box, it has been divided into separate meta boxes, so you can simply get rid of those that you don't need to use by simply hiding them within the WordPress Screen Options, and keep your post editor page clean as possible.
For example, Thesis SEO options has been separated. The most important part for SEO now is Title Tag and Meta Description, search engines grab and display search results based on these two fields, Google no longer give weight to Meta Keywords like before, so you can go ahead and hide the Meta Keyword within the Screen Options. And, do the same thing with every single meta box that has a feature you don't use or need.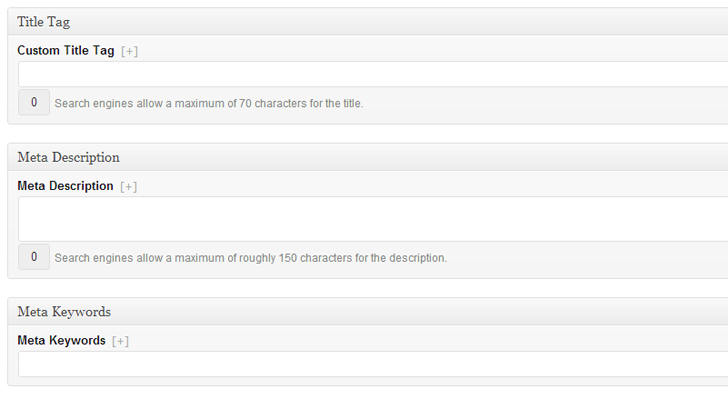 An upload image button has been added to the Thesis Post Image and Thesis Thumbnail meta boxes, this small addition means a lot to me since I use Post Image on every single post I publish, and I got tired scrolling up and down the page, now.. no more scrolling, do the job in one place! These are the features I like because it increase the user experience.
And, guess what? You can create custom templates, then use them on any page or post:
For example, there is a custom template to create a landing page that comes with the theme, once you create more custom templates, it will show in the drop down menu under Thesis Skin Custom Templates meta box, so you can create several templates and choose from:
So good so far!
My Thoughts →
Alright, now that we've made a great tour, I've walked you though the main Thesis 2.0 features, and showed you how it ended as a totally different product than its older version, it became so clear that version 2.0 is different in almost everything -except the old hooks which I knew it has not been changed- anyways I've talked about a few things that I like about Thesis 2.0 in my review above, so here is my thoughts and personal opinion about other Thesis 2.0 stuff:
No documentation, no tutorials
When 2.0 was released, I didn't find any documentation at all, so it maybe confusing, but that's OK, there is one page with basic information to get you started, which I think is useful for those who are already familiar with the theme. But, if you are new to Thesis, then I have the feeling that you will be lost! So, I hope that my Thesis 2.0 review gives you a sense of what to expect, and explains to you how easy it is to install the theme and use it.
Too many notices when debug mode is enabled
I can't stand that, both the back-end and front-end are full of notices, I can easily say that this isn't a developer friendly release!
Drag and Drop doesn't always mean easy to use!
The drag and drop in Thesis looks cool, but it's not so clear. I know it's not an easy job to build a template builder, I've seen many that really sucks. And, I was expecting this to be more easier to use. Anyways, I won't judge it in my review, I will just let you tell me what you think about it if you had a chance to try it.
What I think is, most of developers expect people to love and start using their themes or plugins once they install it, they -mistakenly- think it "really" takes a few minutes to build a page with drag and drop type of interface! But this isn't always the case. In real life, no matter how easy it is to use, you will find many people struggle!
No boxes, no packages
And, no one knows what exactly they are, or when we will get them!
Upgrade from 1.8.5 to 2.0
If you are thinking about it, then don't!
I don't understand this "Thesis Legacy Helper" plugin, this is the plugin that DIYThemes provided for those who want to upgrade from 1.8.5 to 2.0, the plugin description says:
What's the difference between Thesis 2.0 and older versions? Pretty much everything. This plugin is for people upgrading from older versions to Thesis 2.0. Logged in users will see the new Thesis skin, Thesis Classic, while your normal site visitors continue to see your previous version.
Huh?… I really don't understand what's the purpose of this plugin, and I can't recognize this as an "upgrade"!!
If you want to use Thesis 2.0, then use it only on a new site, or learn how to WAIT!
I see that DIYThemes team rushed this release to satisfy their members, but it's hard to call it a complete release, at least not for me. I expect a new update pretty soon to fix the minor issues, plus documentation, tutorials, boxes, packages…. etc.
P.S. I didn't expect to give it a low rating, especially that I've already done that with my 1.8.5 review! But I just can't give it more than that today! I think the theme is good and has many creative ideas, but the launch wasn't anything from what I expected, and there is no material to work with. I will be updating the review latter on when something new comes up.
What about you?
Have you got a chance to check it out?
How is your experience so far with Thesis 2.0?