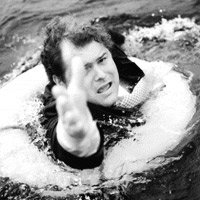 I still remember the excitement I had when I decided that I was going to start a career writing. I'd always loved writing since I was a kid. Of course I was more attracted to the poetic/emotional genre of writing, than the dry drivel that is found on blogs.  But I knew that I was a naturally gifted writer and felt that it should be an easy transition.
Of course like every responsible adult, I began looking into writing for money online just to see what I was getting into. I was still very excited even though I hadn't done any writing yet or made any money. I knew it was only a matter of time. I decided that article writing and blogging would be my introduction into the world of writing for money online.
I promptly made a blog
It was a cute little thing talking about iPods. I promptly failed. The blog was built on the free Blogger platform, but I'd sent at lot of time working on the post and I was really disappointed that I'd only made a couple of pennies in my first stint at blogging.
That first failure helped me to drift back down to reality. I realized that there was still a lot that I didn't know about blogging, and I was going to make sure that for my next attempt I was going to know exactly what I was doing. So the research began again.
I would have never imagined that there were so many blogs dedicated to teaching others how to make money online. I was shocked that there were so many experts and rules and tips and tricks. I learn the importance of the search engines; I learned the curse of SEO. I came to the sad conclusion that blogging isn't about the love of writing. I saw blogging for what it really was: manipulating the search engines to bring enough traffic so that people can click on ads.
Audience and robots!
For all the benefits that search engines were bringing to the web, they brought just as many negatives. Blogger were no longer writing for an audience, but writing for robots. Their readers where no longer people to them, but numbers and was conveniently renamed traffic. The coveted number one spot on Google almost caused them to sell their soul.
Now, I didn't hate the search engines. I'm not that old fashion. But I did hate what they were doing to honest writers like me. I found I was spending all my free time trying to look up those hard to find SEO miracle tips that will carry me all the way to the top of Google. I found instead of creating creative titles that will draw readers in, I'd just through a few words around my keywords.
There were so many "SEO experts" all with their own set of tips and advice. There was so many bloggers saying to do one thing, while others said to do another. I tried to adsorbed as much as I can, but that is humanly impossible. There were many nights when I'd find myself up at 3 am reading what some guy I've never heard of say about SEO.
I was drowning
As a writer, I felt filthy. As an entrepreneur, I felt overwhelmed. As just a young teenager, I felt close to giving up. I wondered if there was a place in the blogging world for people who actually loved writing.
It had been a year since my failed iPod blog.  A whole year pasted without me doing anything of any real significance. A whole year passed and the only thing that changed was that I knew a lot of clever terms like "anchor text" and "meta tag." I realized that if I were going to have any success that I would have to stop wasting all my time on SEO and actually write. Imagine that.
I finally understood what relationship I would have with SEO in the future. SEO is not a tool to build blogs. SEO is a tool to market a blog. You can't imagine the freedom I felt when I realized that I can blog how I want without worrying about the thousands of different SEO tricks.
I was inspired again
I found that excitement. My next blog wasn't a failure. My next blog ranked up to Page Rank five within a couple of months. My next blog completed owned a niche in the search engines. What is the moral of this story? Don't waste all your time SEOing. You will never be able to learn all there is about SEO. SEO is important and does have it's place, but write first and let all that stuff come later.