A Script Tells the Story of Publishing My First Post for A Famous Blog
Story of my first post Published on Famous Bloggers, Autobiography of my first guest post on blogosphere… I had a lot of titles in my mind for this very post. But finally, I decided that the title should be short and simple.
Lets proceed to the story with the hope that it's the content that matters than the post title.
By the way, you may not find  the actual elements of a story in this post. But, you will definitely get a picture of my journey as a first-time  blogger or rather you can view it as a short film about blogging where I am playing the lead role ;).
So here goes the story, script, autobiography or whatever you call it.
It all Begin With
Yes,it all began with me starting a technology blog- Blog-Jakes. Though I call it a tech blog, I am still confused on what should I write on my blog. And, there have been times I have been prompted to write my daily life experience on that very blog. Like any other blogger(or most of the bloggers), I too started the blog with the intention of 'Making Money Online'. So I needed to market my blog.  I slowly started learning about the art of SEO. The word 'MONEY' kept echoing in my mind all the time. That's when I started commenting. But I assure you guys, I haven't done any spam comments. I had often took the pain of reading the post and then did the comment. And, that restricted my comments to a number below 5 on a day. I was to market my blog and haven't done the crime- 'spam comment'. Doesn't it sound weird. To be honest, the credit for the same mainly goes to a post in Famous Bloggers titled 'Don't be that guy in commenting' by Evelester. If I remember it right, that was the post through which I came to visit Famous Bloggers. Later I came to know about 'Guest Blogging' and this blog seemed to be a great platform. Understanding its potential to drive traffic to my blog, I got registered as an author and submitted my first article titled 'Blogging is all about being passionate'.
Why I Should Have Been Optimistic?
Every first-time blogger…Nope. Every blogger should be optimistic with the belief that his/her own post is good.
My post met the minimum requirement of 400 words.
My post didn't had any affiliate links.
My post had the right structure beginning with an introduction followed by the explanation of points and winding with a conclusion.
Instead I had been a Pessimist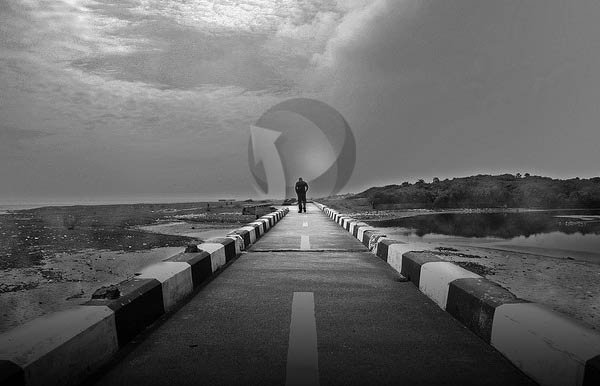 Why should biggies like Famous Bloggers bother to give me a chance?
Time was like fiend. As the days passed, I began loosing my confidence and patience.
I came to know there was already an amazing post in Famous Bloggers about 'Passion Blogging' by Delfin Paris.
I was stunned to find that there is yet another post on 'Passion Blogging' in the list of posts pending for review.
The Ironies
Money, money,..That was the only thing I had in my mind and there was I writing about 'Passion Blogging' where I had preached money is nothing.
Making money was my aim and continues to be my goal. Still you cannot find any advertisements or affiliate links in my blog. Hence, I haven't earned a single penny from my blog. I have reasons for that. But this is not the place to discuss those reasons. I might do it in some posts in future.
All is Well
Like most of the movies, this one too have a happy ending. A month after submitting my post, I got a tweet from @FamousBloggers that your post will be published soon. I was to cheer up on hearing this. But instead I was stunned as an hour ago before receiving this tweet I had thought of trashing my post.Yes, that was suicidal :-(. But due to Almighty's grace I haven't done that.The very next day my post was published and I was too happy. Thanks a lot to Hesham (For those who don't know Hesham yet, he is the founder of this cool rocking blog). Hey, for all those who are looking to guest blog here, Hesham is a good guy. He will surely publish your post if your post has something good in it. So don't be a pessimist like me, instead be an optimist.
Why You Should Comment on this Post!
Yes, I have been the director, writer and hero of this short-film. Alas, Hesham and the Famous Bloggers Club were the producers. So do tell us whether this post is gonna be a click or flop in blog-o-sphere. Also tell me if you feel I am a good actor? How are my directing and writing skills? Tell all your feedback as comments.
You read the 'IRONIES' section.Please do tell me if you really think I am mad. All remedies are welcomed.
And at-last but not the least, I am still a novice blogger so I need your comments to improve as a blogger.
Images credits: Yes we can, Montmartre by John Althouse Cohen, walking lonely