OptimizePress WordPress Theme for Amazing Landing Page Conversion
In this post I am going to talk a little about the amazing OptimizePress WordPress Theme which -in my opinion- considered a revolution in creating fast landing page designs. Optimize Press Theme gives you a great power to create killer landing pages, squeeze pages, membership areas, sales letters, bonus pages, one-time offer pages, launch pages and much more, you name it! All this with out having to code by hands at all, you don't need to be a technical genius or a web designer.
Here is the deal..
Me and Google, what we have in common?
What really interests me when I create a page or a website is to look after SEO, so my first choice would be using WordPress to create any kind of sites I would like to have, it's cool to find out something in common between Me and Google, we both love WordPress. It's exciting that WordPress has SEO features, so basically you need to setup any extra plugins for that!
However, you can incredibly increase WordPress SEO if use a useful plugin.
How hard it's to launch a product?
We all know that launching and marketing your online product is not an easy job, it's a long and complicated step by step process, each step takes time, and you should end up to really make sales of your product, or then you are in a big trouble. So, I really don't believe anyone who says it's easy! But there are nice and sweet tools that makes our job much easier, this is why you should look at OptimizePress WordPress Theme, it's a must have pro tool!
Is it gonna save my time?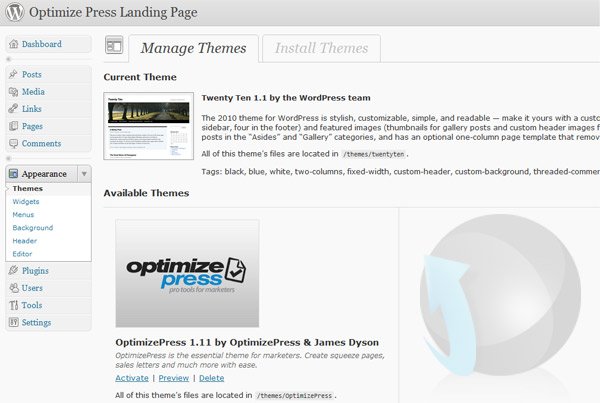 Yes, hell yeah, OptimizePress will save you a lot of time and resources, lest face it, most marketer know nothing about web design, so if you are not a web designer you really shouldn't try to create your product sales page or launch page by yourself, plz don't kill your product by your hands! Instead find a designer!
I've got my copy or OptimizePress Theme, and I wanted to test drive the theme before review it, so I bought a brand new domain name optimizepresslandingpage.com to work as my demo, I just setup it this morning right before publishing my review, so it's so fresh 🙂 and guess what?! It really takes no time to setup and prepare a fast landing page design! It's amazing!
Check out this awesome page I've done using WordPress and OptimizePress Theme (It took me about 15 minutes): OptimizePress Landing Page Demo
Two of my clients contacted me recently asking for designing their products launch pages, one of them did the international big mistake lol! He designed the page by himself!
So, we have tried to save money and gas by taking a short cut, we decided not to rebuild the whole page design, instead we fixed a few problem and did a few tweaks, and oh man! I really hate it when I fix design problems done by a non-designer as usually it's a big mess and takes more time than creating a complete new design from scratch! ( I wish OptimizePress exists that time! )
Here is another FAST sample I've created in about 15 minutes:
I love design, I design, I got paid good when I design, but now I am thinking of how to use OptimizePress for my clients projects as it has a developer package! So it's highly recommended as it will really save time and keeping quality and satisfaction.
As I said before, OptimizePress Theme for WordPress gives you a great power to create killer landing pages, squeeze pages, membership areas, sales letters, bonus pages, one-time offer pages, launch pages and much more, you will be impressed with it's features.
Let's take a look into it's features
Squeeze Page Building System
Sales Letter & Offer Page Building System
Launch Builder System
Add video to your pages with one click
Unique iPad & iPhone Video compatibility
Shortcodes Sales Letter Elements
Cross Browser Compatible
Built in SEO features
And So Much More (This theme is full of incredible features!)
A thought about OptimizePress Theme's Price
I have worked on a few products launches helping out my clients on setting up their sales pages, and believe me or not, I must say the price is amazing, this product should be priced higher than $79, and yes it has a regular price of $297, I hear you saying this too much, but NO! I think this is completely fair price!
Let me explain why I think it's a fair price!
I've used different techniques to build sales pages like HTML static pages, PHP static pages, and WordPress to create pages based on customizing both free and premium themes. The best way was using WordPress to create a sales page, but I must mention that all these ways takes a lot time and work, some pages got lucky and convert, many doesn't really convert the way we thought it would be!
This is why choosing a theme like OptimizePress makes a lot of sense, especially after what I knew about James Dysons the creator of OptimizePress Theme, he is a guy who do conversion testing for his designs, and he put a lot of effort making several templates that you can choose from in his theme! There are 10 built-in squeeze page designs!
I don't know James Dysons, I never meet the guy in person or even talked with him -yet- but I've got a good impression after I watched all his videos talking about what works and what doesn't work on Optimize Press theme! Very impressing!
Watch the promotion video by clicking on the image below (aff link)
Some designers charges up to $1000+ for creating a sales or a landing page! Which makes Optimize Press un-compete-able when talking about it's price!
It's really Good Deal!
Like any amazing product, You can get this Price is $97 now! but the (Regular Price is $297), so.. Hurry up and get your copy now if you would like to save money! It's a really good deal!
Here is what you will get:
OptimizePress Theme (Multi-Site Personal License)
Complete Page Building Solution
Unique Shortcode Sales Letter Building System
First Class Support
OptimizePress PDF User Guide
First Class Support
Note:  OptimizePress Affiliate program at the moment is closed to only members, I could ask for an account to join the program by sending an email to James Dysons the creator of OptimizePress Theme, but as a person who appreciate people who work hard on creating something that really gives big value, I preferred to get my copy by buying it.
I am really having fun, I hope you to will enjoy it!
Find out more about OptimizePress!
Here is other posts and reviews I wrote about OptimizePress: