The Dark Side of My Online Business in 2013: Never Give Up!
I don't know a proper way to start this blog post, but I will just type what comes to my mind as it goes, and see how it turns out. I hope it won't be a dark read. Remember; look at the bright side my story 🙂 it's not that bad compared to others I've heard of..
As 2013 is about to end, you are going to read a summary of what happened with me and my online business in 2013.
I can't really tell whither if 2013 is a good business year, I hoped it would be better, especially after what happened in 2012 when my domain names got stolen, and how this affected my business so badly, even though I was able to recover them -by the help of our powerful blogging community- in only 4 days, I've learned a few great lessons on how to secure my business assets.
I've been through many hard times during the last 10 months. My business was about to go down a few times due to several factors. However, none of these awful experiences I've had stopped me, or made me give up.
I was always able to get up and put myself back on the track! (Thanks God)
And, for you all…
I am so grateful and thankful to everyone who inspired, pushed and stood beside me. I can't really mentions names, so this shout is for you all. I am sure you know who you are 🙂
Let me tell you a little about those glitches I've suffered of. To do so, I will share some quick info about my main projects, and their performance, so let's get started:
1) How and why I am was almost dropping Thesis Development Business
If you ever used Thesis Theme, then you probably heard of ThesisAwesome.com, one of my main projects and business assets.
I've been developing for Thesis for about 3 years, this business generated an income of about $70,000 since it was launched.
Thesis 2.0 release
At the beginning of 2013, Thesis 2.0 was released, so all my older Thesis Skins that was developed for Thesis 1.x lost its value, simply because they aren't compatible with the new version, and of course; everyone wanted to install and use 2.x which provides great features.
However, I've tried to compete and prove my existence in the Thesis Skinning market, I've managed to released the first Skin ever for Thesis 2.0, only a couple of days after Thesis 2.0 was released, and I made it available for everyone for FREE. I called it the Legendary Skin, plus some other Free Boxes for Thesis. It was downloaded a few thousands times in a very short period, and I've seen many avid Thesis users creates amazing sites by customizing it.
After that, I upgraded the popular and best selling BlogSkin to work with Thesis 2.0, but things didn't turn out well as Thesis 2.1 was released right after a month or two, which broke the BlogSkin.
I couldn't keep up with these changes being involved in managing other projects. Also, I preferred to wait till Thesis become stable and I can contribute to it.
BlueHost website migration
I've been -and still- recommending BlueHost shared hosting for hosting small and just starting websites, but a few weeks back I had the worst experience with them since the last 4 years of being a happy customer, this happened when they notified me about server migration (they were moving my sites to another hardware), I had my sites down for a few days (6 days to be exact) including ThesisAwesome.com and other important affiliate sites.
I couldn't, and I still can't believe that migrating to another server could take up to 6 days (that's a huge down time), although they've told me in their email that my sites won't go down during the process.
Tow kicks in the head!
The release of Thesis 2.0, and BlueHost migration costed me a lot. The result was, I've lost clients and the site ranking was hurt.
So, I am out of Thesis development business, for almost 10 months now. But, pretty soon, I will put the ThesisAwesome.com site on hold (under construction) for a month or two till I develop some kick ass Skins, have a new fresh redesign and move to a new hosting service, then Boom… Launch!
3) What happen to the Famous Blog Traffic
I've talked above about how BlueHost migration costed me big site ranking. Guess what!
The same exact thing happen with HostGator about a month ago, they migrated my VPS to a new hardware. I though it will enhance the site performance, but it actually wasn't a good help at all, I've got the worst results ever. The site was going off and on several times in the same day, and many times the VPS won't restart automatically, I wasn't able to restart it manually too, some of the services won't start at all.
I ended up having big down times!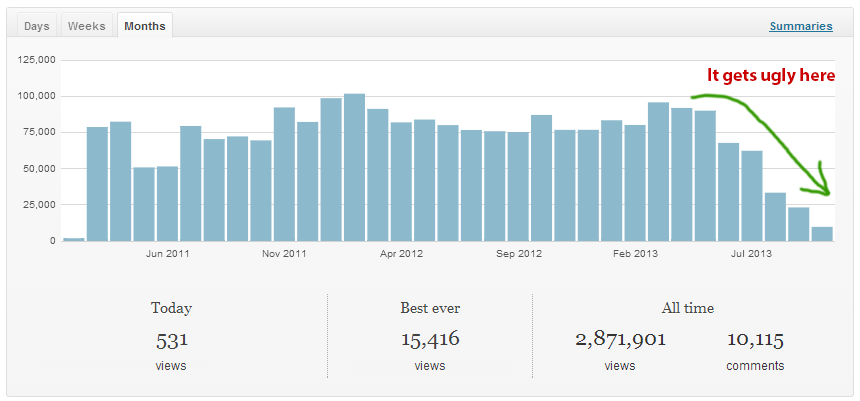 The overall results was FamousBloggers lost more than 60% of its search traffic (many high ranked blog posts lost their rankings) And, of course my affiliate sales dropped so badly.
Getting it back!
I fed up! And, I though it would be good idea to move the site to a better hosting. And, it has been already done last month.
The Famous Blog is now hosted with WPEngine, you guys should check them out, seriously!
My Laptop got stolen!
10 days ago, I had a business meeting. I decided to stop at Agora before my meeting to grab some coffee. Agora is a lovely Greek coffee and bar place located at downtown Houston. I spent an hour and half, then I left back to my car to catch up with my meeting. Surprisingly, I found that the rear window was broken, I immediately figured out that someone stole my laptop case, which has almost every valuable thing related to my business!
More sadly, I was carrying my backup drives in the same case (I had two of these, and I was carrying them both), my iPad 2, an extra cell phone, a lot of plugs, and some other important papers.
I've lost it all.
I called 911, Police came and made a report. I called my car insurance (that sucks) …etc.
I ended up living without my laptop for almost a week, no access to the internet, I can't reply to support tickets…etc. What a pain and stress! I estimate the cost:
$2500 for my laptop, iPad 2 and other stuff was in the case.
$705 to replace the rear window of my new 2014 Jeep Grand Cherokee I bought 4 months ago.
$1040 for a new HP Envy.
And, some other little things like a new wireless mouse, laptop case …etc.
So, that's more than $4000, plus the pain!
I've decided to write and publish this post the first thing after I got my new laptop, so I can share what happened with you guys. Hopefully to get some relief, and explain why I wasn't responding to emails and support tickets. Smart phones are great, but it's not enough for doing it all.
My income at 2013 so far
I've published a couple of my monthly income reports in the past, but didn't continue with that because it took me a lot of time to put it together. So, just in case you are wondering how much I make from my online business, here you go:
2010: $8,000 (my first year in the States).
2011: 50,000+ When my business started to kickoff.
2012: 70,000+
2013: 60,000 so far!
Yes, these numbers looks great! But in fact, I spent almost all the money I earn back into the business, and my personal bills. And, like the 2/3 of people who lives in the States, I haven't saved anything.
Conclusion: What I've learned
1) Never count on one project, have more than one project in hand to avoid business crises.
2) If your business is getting better, move away from cheap hosting providers, and go to a more dedicated and experienced hosting services like WPEngine for WordPress sites. I know.. It looks like will cost you more, but trust me, it won't actually cost you more, moving to better hosting company will certainly help you maintain a more stable business.
3) Take care of your valuable stuff, never leave electronics in your car, there's always someone watching!
4) Learn how to save money, silly!
5) Never give up!
You Will Never Fail If You Never Give Up!
Or I'd better say: You can't fail if you don't give up. Because of the hard head which is attached to my body, someone like me can't really fail.
Why should I?!
Any business including online business is not easy to manage, business never been easy, even though it looks like an easy job, but it's actually not. With all what I've been though; I never thought about giving up my business, I mean why should I?
I am living the creative dream, I do what I like, whenever I want, because… I am the boss.
You too, should be tough, and never let any situation take you out of business.