New Design for CommentLuv Info Panel in this Sexy Version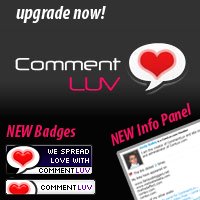 I just got my new version of CommentLuv plugin, Andy pronounced the good news at ComLuv today, the new version is available in the Codex on WordPress.org now for download. You will get bug fix and two design enhancements added to the new version of the plugin, this will make it really exciting upgrade, we can say that their a nice design touch has been added.
I had a great experience with CommentLuv plugin since I started to use it on my blogs,  it was the reason I discovered the real benefit of using WordPress default comment system for SEO.
I am pretty happy with it, and still try to find enough time to do more article marketing during the coming a few weeks.
The New CommentLuv Info Panel
I haven't talk about this before, probably because the very busy month we was having. We have added some styling to ComentLuv Info Panel, and we were lucky enough to add it to the new version of the plugin Thanks to Andy @CommentLuv for the upgrade, and it's even much more easier now to create your own style of CommentLuv info panel if you have some CSS knowledge.
Here how it looks!
I was actually able to test the new plugin here on our blog during the last month, maybe some of you notice the design of the panel, and for those who didn't notice it, simply mouse over the little nice heart, the new panel will show on your blog, give it a try and see by yourself!
Remember.. You must update your profile information at ComLuv.com to allow your info to show on the panel!
This is how the new info panel looks like:
Upgrade to the new version
I am looking forward to see more development and enhancements added to CommentLuv in the near coming future.
Note: if your panel is not as good looking, go to your commentluv settings page and click the 'reset to default' button. That will set it all up to look like the panel here
So, upgrade to the new version now, it will not take a few seconds, try it on your blog, and let me know how you find it!