Thesis Theme Review Plugin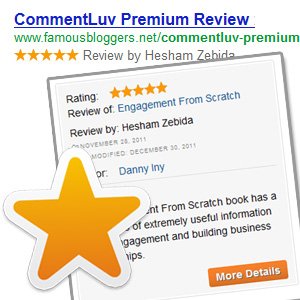 I know that many bloggers and internet marketers are trying to keep up with the latest Google updates to increase their business visibility. I have been asked a few times about how I implemented ratings to the blog reviews. If you are already here then I think you also want to implement Google rich snippets for reviews into your blog.
There are two ways to do this, the hard way and the easy way!
The hard way where you have to code and style to implement hreview in your WordPress theme, and the easy way where you simply install a plugin that gives you that power. So let me make things easy for you.
I've announced the under development product reviews plugin for Thesis Themes at ThesisAwesome.com blog, it's a simple plugin that allow you to easily insert Google Rich Snippets for reviews and ratings to your posts and show rating stars in search results.
I call it the Thesis Theme Review Plugin.
Reviews examples
Here are a few examples of reviews I've made on the blog recently, and also some other reviews that I've updated from the past, you may look at them or search for them in Google and see how things looks like in the search results:
Also, notice the sidebar widget which has a list of recent reviews that I made especially for the plugin.
The future of Thesis Theme Review Plugin
As you can see from its name, the Thesis Theme Review Plugin works only with Thesis Themes, and it will be released as part of my ThesisAwesome.com membership site, this means if you are already a member and you did purchase any of my Thesis Child Themes, then you will have access to download the plugin for a very affordable price, plus the freedom to install it on any of your blogs. However, you also can purchase the plugin individually at a good low price.
Note: I don't sell you a bunch of codes and files, I sell you my support, which means my time, so you are not actually paying me to download the plugin, but to get support and upgrades.
I will be updating you more on prices and when the plugin will be released for the public, this should't take a lot of time. But for now I need beta testers, so keep reading.
Become a beta tester
I've already tested out the Thesis Theme Review Plugin here on the blog and some other blogs, I need to do more testing before releasing it, I need beta testers who are willing to provide feedback and help me out to test the plugin on different blogs with different layouts, this is great for the development process and your help should make it a better plugin.
I am going to accept only 5 -10 beta testers, so if you are willing to install and use the plugin on your blog help me test it out, and provide feedback, it might be yours for free.
Want to be a beta tester? contact me now.
One last thing, it's a good idea to join my affiliate program before releasing the plugin, this may help you make extra money.