The Best Thesis Skin for Internet Marketers and Small Business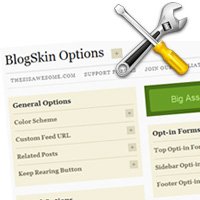 I'am having fun with Thesis Theme, and I'am discovering amazing capabilities everyday being developing skins for Thesis Framework, and it's really getting exciting day after day. Finally, and after three weeks from launching Thesis Theme BlogSkin, the new release BlogSkin 1.3 is ready for internet marketers and small business blogs, and yes as you can see this is the 3rd version of the skin with many new features based on community feedback. Many thanks to everybody for the great support.
I would like you to know that I am working on one more update for BlogSkin to be released as soon as possible, work is in progress, but I won't share any information about the coming release till it's officially ready, and probably it will take some time as I am always trying to solve Thesis Skinning problems!
What's new in BlogSkin 1.3 ?
The new BlogSkin version has many minor differences and enhancements, but what I would like to focus on is the main four changes and additions to the skin and it's thesis options panel.
A complete new option panel
Aweber email list service integration
More ready layouts and variations
Easy WordPress shortcodes
1- BlogSkin has a complete new option panel

The old option panel was not that bad, it was actually awesome! But because we are always seeking more user friendly option panel, we've decided to make everything in the control panel more clear and reachable to our skin users, and re-structuring files in custom folder to make it more easier to handle support requests which will give us more power and faster respond. This actually was something I wanted to do since the beginning, but I just couldn't figure out that easy!
Special Thanks to Adam Barber of ThesisReady.com for his great help and support, he was the person who helped me to figure out how to make BlogSkin more awesome, easy to manage and more user friendly!
2- Easily Integrate Aweber to BlogSkin
Here is a fast example of what you can get:
I believe that nothing is impossible, but I assure you that it's really hard to find an easier way to integrate Aweber into your Thesis Skin on the planet! No coding, no file upload, no HTML, nothing more than filling a few fields and get your fully customized opti-in form into Thesis Skin in less than one minute!
I love Aweber, and this is why I work mostly focusing on it as my main email list service provider, you also can get an account and try Aweber for one month for only $1
What's even better than that is now you can decide -by one click- where exactly you would like to show your opti-in form, on the top area, sidebar, or at the bottom of content, home page, or single posts. You click it, you do it, you name it! It's your blog and it's your business!
Another interesting thing I would like to add is the ability to customize each of the three opt-in forms individually, so basically you build more than one list at the same time as I knew that some internet marketers manage two or three email lists on one blog! So, I've included this in the plan while coding the opti-in forms.
5- More ready layouts and variations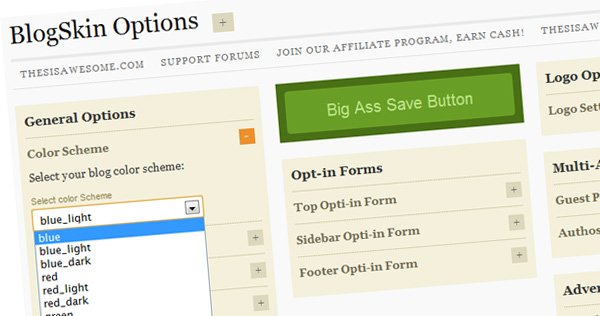 I was thinking of my clients who don't like backgrounds, or others who prefer darker backgrounds for their blogs, so I've created 12 more variations from BlogSkin 6 colors schemes, this makes it 18 choices available for you now, and it's very easy to choose from the drop down list.
Visit ThesisAwesome.com and check Thesis Skins Gallery Now!
4- Thesis Skin ShortCodes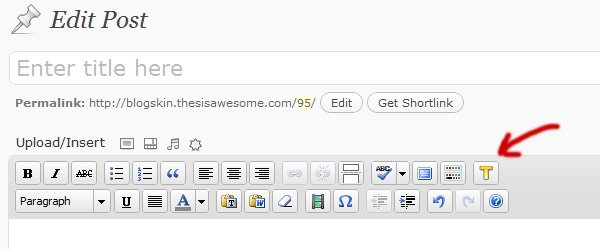 We've been asked by our members to include and integrate shortcodes into Thesis skins, now it's more simple than ever to add shortcodes to your blog posts or pages, things that has being  always confusing to most of us is now so clear and easy to deal with. Adding WordPress shortcodes can be done from inside your WordPress editor with one click!
This will allow you to create boxes for informations, notes and other important stuff that you would like to highlight for your readers, check the example below:
This Makes BlogSkin Ideal for..
If you are serious about blogging, or you run a Small Business blog, you are an Internet Marketer or Entrepreneur, I am sure that you don't want to waste your time trying to find out how to customize your blog skin or how to actually have a unique design. I am also sure that you need a good solution for blog design as you are most of the time busy working on your big plans and daily tasks, you don't want to hear, see or touch any code, BlogSkin will allow you to focus more on growing your business!
Another important note, ThesisAwesome.com offers individual skins, but the reason why I am inviting you to join ThesisAwesome.com membership is to have full access to everything on the site, and all Thesis Skins that will be developed during 2011.
Personally, I always take the best plan that fits my needs, especially when it's about designs because I know that design is not cheap. So, if you run more than one blog like myself, trust me on this one, the personal membership is great choice, and it's only for $120 today, you really don't want to miss this out, what's coming is going to be more than what we already have done at ThesisAwesome.com!!
Visit ThesisAwesome.com and check Thesis Skins Gallery Now!
You may Ask yourself..
What if I don't have Thesis Theme?
Well.. The straight answer to this question is Buy Thesis Theme!
What if I own Thesis but I don't have BlogSkin?
Great, We have done a lot of work to make it possible for you! So you are about to get amazing blog with less work!
It's up to you, you can waste your time jumping between Themes tutorials and codes -here and there- and spend days till you actually make it to customize a skin for your blog (Personally it took me months to get it), OR you can simply hit the buy button and download BlogSkin for Thesis Theme, and relax!
What if I am already a member of ThesisAwesome?
Don't wait, login to your account, download it straight from there!
What if I already purchased BlogSkin?
Contact me right a way using ThesisAwesome.com contact page, and I will send you a link to download BlogSkin right a way!
I would like to thank..
All members who inspired and motivated me to develop BlogSkin! Many thanks to you all for your great feedback and awesome support!
Visit ThesisAwesome.com and check Thesis Skins Gallery Now!