Create More Free Time with these Smart Automation Tools
Too busy to exercise? Too caught up to take a lunch break? Too rushed to bother with a morning coffee?
These and more such scenarios are staples in the lives and times of e-commerce business owners. Running an e-commerce business was meant to be easier than running a brick and mortar store, right? Why then are we so caught up with not a minute to spare? Why do we long for the laid back lifestyles that mom and pop shops have been enjoying for centuries?
Simple, because we don't use the right tools.
With a world of apps, tools and plugins out there waiting to claim their rightful place in your business toolkit, it's only fair that we reduce our daily burdens by automating business processes wherever possible.
Here's a peek at 4 such smart tools that not just make life simpler, they also have the added benefit of giving you a little more 'me-time'!
Are you pondering building an e-commerce store from scratch? Or are you still undecided about which would be the quickest, most painless path to e-commerce nirvana?
If you are part of the latter group, I would hands down recommend setting up your online retail venture with ShopIntegrator.
ShopIntegrator is a simple yet surprisingly versatile shopping cart plugin that can turn any website into a fully functional e-commerce site in a jiffy. No more worries about payment gateways, separate security for protecting users' payment information or figuring out a checkout process from scratch. ShopIntegrator does it all for you.
Let's you choose the look and feel of your store to match the rest of your website with a simple copy and paste design interface
Manages your e-commerce operations end to end – upload and manage inventory, create and use coupons, order management, multiple payment options, secure and PCI compliant payment process, shipping details processed and tagged to relevant purchases
Allows international selling with multiple pricing, language and currency support
Price: Take the system for a spin with the completely free, unlimited period offer that allows you to upload 50 items to your store. Larger stores can pick from the basic plan that starts at $9.50 per month and goes up to $66.49 per month depending on the number of products and features you choose to go for. All payments are made in annual installments.
Research by Media Bistro shows that 74% of all users depend on advice from friends and family via social media to guide any purchase.
To stay on top of social media – win fans, engage them, inspire them to buy – you need to be regular on all your social networks with equal passion. Social media is one of those time suckers that no business (especially e-commerce businesses) can do without.
Sprout Social allows you to unify your four major social media accounts – Facebook, Twitter, LinkedIn and Google Plus – and manage them all from a single location. This way it frees up the time you would have wasted switching from one network to the other in order to publish posts, understand user behavior on social media or interact with fans.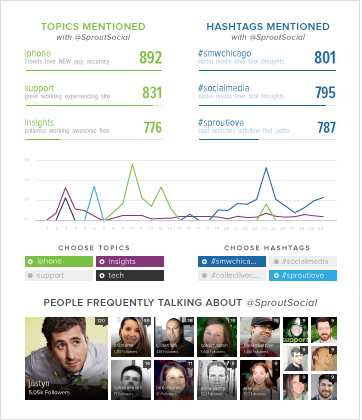 With Sprout Social, you can benchmark your brand's performance on social media against competition.  You can offer social customer care, you can almost pull out detailed analytics dashboards that explain exactly what fruits your social media effort offers detailed social media analytics and lets you track the ROI of your social media marketing campaigns across various social networks.
Pricing: Sprout Social, like most other software has a 30 day free trial, no credit card required.  Post the trial period, you can pick from the cheapest edition that comes at $59 per user per month or opt for more fancy versions that can go up to  $1500 per user per month based on the complete set of features used and level of support desired from Sprout Social.
CRM or Customer Relationship Management is an integral part of any customer facing organization that manages customers from the time they enter the sales pipeline as visitors, graduate to being leads, convert to customers and end up becoming loyal repeat customers. Usually this entire process of customer lifecycle management involves multiple teams who in an average firm spend hours coordinating between each other with many a slip between the cup and the lip.
Salesforce is one stop, comprehensive SaaS tool that integrates all these functions into one fluid process. Each function is handled by a dedicated module that ties into the next like pieces in a jigsaw puzzle.
Sales Module, Leads Page
Salesforce combines 4 key functions – Sales, Marketing, Customer Service and Cloud Applications Development.
It builds an integrated 360 profile for each customer based on their profile information, browsing behavior, click tales, past purchase records and service history.
It lets you manage your contact, create and nurture leads, pursue leads and convert them into customers.
It automates all your digital marketing – email, PPC, Mobile and Social – and brings them all together in one analytics dashboard.
Salesforce makes customer service a breeze as all the required customer data is just one click away. It helps customer service teams handle cases more efficiently across multiple platforms including social and mobile.
Salesforce also boasts an extensive app development platform from which you can develop and deploy your own apps to integrate with your all in one CRM solution.
Price: Salesforce works on a per module based pricing structure. You only get billed for the modules you choose to use. Each module is priced differently with the cheapest being the Sales Module priced at $5 per user per month and the most expensive being the customer service module, which starts at $65 per user per month. Each module grows progressively more expensive based on the number of users of the respective module, number of customers served, number of features selected and so on.
We all love traveling, but unanimously we also detest managing the mountain of paperwork that accompanies official travel. For a road warrior, staying on top of multiple flight tickets, itineraries, hotel reservations and more can be tiresome and takes focus away from what they do best – sell.
TripIt makes travel simple by taking the drudgery out of it. Book your tickets, do your reservations, email them all to plans@tripit.com and TripIt takes care of the rest.
It creates simple itineraries out of complicated multi-city travel, allows you to book any mode of transport you choose and have it all synced together in one single sane document. It offers maps, directions and approximate arrival times for the places on the itineraries. It also allows users to share their trip via social media.
The pro-version allows you to share itineraries with your entire team, get alerts when flights are canceled, obtain refunds, and other such services that will only make your travel more of a joy than usual.
Price: The base version of TripIt is completely free, while the pro version starts at $49 per year. Similarly, the team version costs $29 per month and goes up progressively. They also offer a 30 day free trial for all you Doubting Thomases out there.
Conclusion
Unless you actually look forward to the pastoral life of a mom and pop shop, you need to get a better handle on your time management to perform better at work and enjoy life at home to the fullest extent.
Do yourself a favor by picking at least one out of these four e-commerce apps and make your digital life a lot less hectic while being twice as productive!