Do I Need SEO Software to Study my Website Rankings?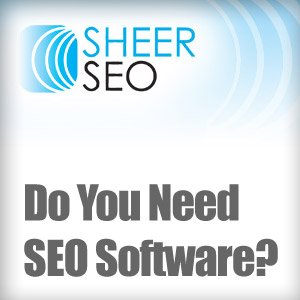 To be able to achieve higher search engines ranking, you must understand how search engines work, and learn some techniques that help you boost your sites' rankings. But, I must tell that every website or blog has it's own nature, it's something so close to finger prints, so typically no one can match results from two different websites, even if they are in the same niche and talking about the same topics, the results will always difference from a website to another, which makes it a total different experience. I find it really useful to use useful SEO software.
Why using SEO Software is useful?
Personally, and even after several years of blogging and doing internet marketing, I still find the SEO hard to understand some times because there are many data you have to watch and keep eye on, and also because this data is not static, it changes all the time based on many factors, for example: competition), even the way that search engines works can change at any time, remember Google's Panda update?
And, it's impossible to try figure out your rankings and compare it with your competitors rankings without using a good SEO software.
This is why I am trying to locate free time to try out new search engines optimization software and services that makes it more easier for me to follow up with my sites' rankings and collect the data I need to analyse about my competitors.
I just found a new SEO software that helps a lot, it's called Sheer SEO, and you can find it at SheerSEO.com.
SheerSEO Software Overview
It's really amazing the amount of development that those guys  put in this software, here are some of it's main features that I like most:
Track Rankings
You will be able to track your rankings on Google, Yahoo and Bing, some times it's hard to monitor a large amount of search terms and to remember the ranking of a specific search term at a given point in time, this feature will help you a lot!
Track PageRank
Some people think that Google PageRank is not important, probably when they don't have it, but once they got a PR for their site or enternal pages, they will change their minds instantly.  SheerSEO will give you easy page rank view over multiple pages within your website.
Estimate Traffic
SheerSEO can estimate the monthly search volume and the average click cost cost for this keyword in Google, it grabs this data from Google Keyword Tool.
Use Google Analytics
SheerSEO software grab data from Google Analytics, which can be called "real clicks", then present this data with the rest of the rankings data. So, this makes is easier to understand the benefits gained from the keywords ranked in organic search results.
Social Bookmarking Tracking
Many bloggers use social bookmarking sites to submit their posts, with SheerSEO you can actually track the number of bookmarks to your site, I see this as a very interesting feature, but I would like to see more developmet in the software to include sites rather than Digg and Delicious which are not used by the massive blogging community of today.
Tracking Competitors
I bet you are interested in knowing how your competitors are doing with their rankings, I see this as important part of any business, which is to locate and monitor competitors' current rankings.
Track Facebook Mentions
We all know that Facebook is a great source of traffic, Some people claim that sharing posts/links on Facebook can enhance your search engine rankings, however this is not confirmed. SheerSEO software tracks activities in Facebook that mentions your site.
The Facebook activities tracked are:
Number of Facebook shares.
Number of Facebook likes.
Number of Facebook comments.
There are many other useful feature, you can take a look to the full list of SheerSEO software features here.
Try SheerSEO for 90 days
There is too much stuff to do with this awesome software, you also can jump in and give it a try. You can create SEO report for your site, and try SheerSEO for a whole 90 days for free.
To your success!