Prepare to Publish Tweets via HootSuite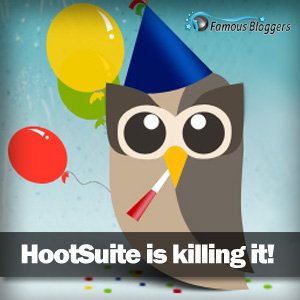 HootSuite pronounced some awesome new features , they've updated the Affiliate Program with new tools and terms and added two ways to schedule messages with the addition of Publisher which is really amazing. I can tell that HootSuite is my favorite twitter management tool ever, and what I really like about it is not only the application, but the people behind it, they are incredibility motivated and they really love whey do, and I think we all should learn from that.
Congratulations HootSuite  for reaching 2 Million members!
HootSuite publisher
I just want to tell you about the HootSuite publisher tab, man I was blind, now I can see!
HootSuite allow you to schedule social updates and tweeting anything latter, but there were a big problem managing complex campaigns, all what you could see was a list of scheduled tweets, it was easy to get lost!
HootSuite recently released a calendaring view called Publisher for a visual way to manage scheduled messages for campaigns. This is incredible feature doesn't exists elsewhere!
Feeding Twitter with Blog RSS
The only problem I had with HootSuite was in the RSS tweets. I am not sure if you know about this, but.. I feed Twitter with trusted blogs in my circle. I knew about the problem when I got a feedback from a friend on Twitter, she was annoyed by a punch of tweets was tweeted from my account at the same time!
Well, don't get excited.. I discover it was my mistake 🙂
I shouldn't set HootSuite to check this feed for new posts for all blogs at the same time, so I went through those feeds and I set different times for updates to solve the problem, man I don't know what I was thinking when I did that the first time 🙂
Do I need a HootSuite Pro account?
It really depends on what you can't do on Twitter, and what you wanna do, but basically.. You don't need to pay a lot of money!
There are many twitter tools on the internet, free and premium stuff, you can do a combination of two or three services and applications to do your Twitter management tasks to avoid paying money, but I don't really like to do that, I don't want to open more sites just to do one thing which is manage my Twitter account! But if you have more than one account like me? Don't worry HootSuite allows you to manage up to 5 Twitter account for free, check it out!
But to me it's totally different, I manage 10 Twitter accounts right now, all at the same time! Don't get me wrong, I have an account for each of my blogs or websites, just like any normal person 🙂
Anyways, if you wanna know the answer to this question, just read James's post, it has a very detailed answer based on his experience with other Twitter management tools and how he is more comfortable using HootSuite now, and also read on this link to know why I personally prefer HootSuite Pro account.
HootSuite Affiliate program – The Money Part!
HootSuite  has a very good affiliate program, and they are always working to add more improvements to the system. The team added new tested and optimized banners and badges, including dynamic choices (flash and animated .gif), and ready to post text campaign links.
Plus, HootSuite Pros now receive 100% commission (up from 50%) on the first payment from referred customers including earnings from custom URLs, HootSuite University, additional Team Members and more. HootSuite Pros will also enjoy a lower payout threshold meaning you get paid sooner.  This is another reason to join HootSuite Pro.
So, if you are a HootSuite Pro member, I suggest you join the affiliate program and give it a try.
Enjoy your tweets, and the weekend a head!