Pros and Cons of Bringing Your Own Device to Work and School [infographic]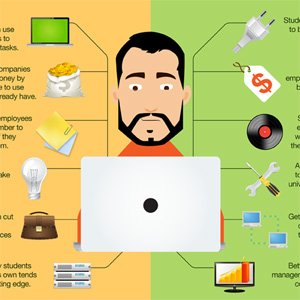 Rather than updating old technology, many companies and schools are now encouraging employees and students to bring and use their own devices, allowing institutions to save money and still take advantage of the new technology.
I remember that time when I was working for some companies (before I became a full time blogger), I used to have my own laptop everywhere, I simply couldn't work on the company's computers, they were way old and less configuration than my laptop, and the company didn't want to pay to upgrade their computers.
However, I was more comfortable being on my own laptop, especially that I have all the applications I need, plus I don't have to wait for the IT guys to setup anything for me, so I was more productive.
Going BYOD (Bring Your Own Device)
Check out this cool infographic by OnlineColleges.net, which shows the pros and cons of having your own device at work or school (Going BYOD).
Source: Going BYOD