Our FB Comluv Blogging Contest 20 Winners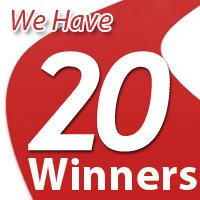 Finally, today we have some results from inside our control room to share with you as we promised earlier, yes it's all about our FB / Comluv blogging contest. I got all results from our Blogging Judges Team as I told you before, we got 39 articles that covers everything you need to know about blog commenting, we have succeeded to create a huge commenting folder indeed.
I was really excited while calculating results to know who are our 20 winners, of course I was not able to remember the whole 39 articles and who wrote what, so I was living the excitement for a few hours before I could know who wins. and a big thank to our Blogging Judges Team who really did a great job, we won't be able to work this out with out them.
Probably you have watched Andy's winners video post today explaining how we calculated the results.
Congratulations to our 20 winners
Here I am going to list our 20 winners, there is no order, no levels yet, and no full details about who took the first place or second place, there will be another post in a few hours at ComLuv.com with all positions and who wins what, so stay tuned everybody!
How we did it?
This table has our 8  judges given points and the average of each article in the contest, and it's how we decided the quality of articles, and we could pick the first 20 winners! Plz, find your article number in the blogging comments folder post.
Note: the articles marked with colors, it was just guides for us, it doesn't really mean anything important! probably you will get the full picture when we publish the full results.
Congratulations to the Winners
I still can NOT believe we are at the end of our blogging contest! well.. what to do?! This is life 😉
But I believe that we are winners, so.. to those who didn't win cash prizes, I wish you good luck next time!
Stay tuned, we will publish about our 20 winners possessions TODAY in a few hours at ComLuv.com! so.. basically, if you see your name on the list above, then you are a winner, go a head and email us your PayPal information right a way!