4 Website Analytic Tools Better than Google Analytics!
It is nearly impossible to talk about website measurement without hearing Google Analytics in the same sentence because it is the most well known & popular solution. This leads many unsuspecting marketers & webmaster to jump in headfirst without a second thought. Today you discover why this could be a huge mistake and alternative options so big brother isn't looking over your shoulder.
Why Not Google Analytics
Your first question is likely; why not use Google Analytics since it is free until you hit five million page views per month? Well the price is free; however, that is made up by giving your most valuable data over to your biggest competitor from an online marketing standpoint. If you think Google isn't looking at the data you are sending them; then you are naive which may ultimately bring your demise. Probably not as a new site; nevertheless, if you ever become a force in your industry watch out because it will be too late.
Free Self Hosted Option – Piwik
For those with no budget you will want to use the wonderful open source, truly free program: Piwik. The reports are similar to Google analytics and the documentation does a good job of helping you along. For the tech savvy you have the advantage of customizing your installation since it is open source with a nice API for application integrations. For non techies some hosts even offer a one click install via Simple Scripts now.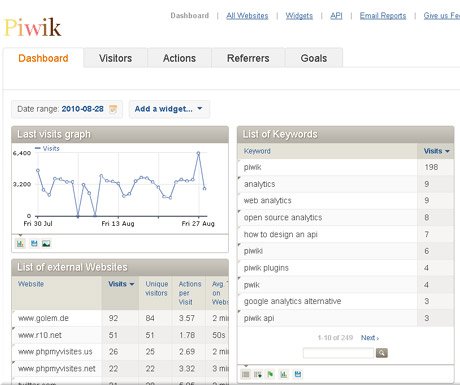 Self Hosted $30 Option – Mint
Do you have a really small budget and still want the security of Piwik but with less technical knowhow then consider snatching up Mint. The big advantage of Mint over Piwik is that you get some support since you are spending money. Plus it is really affordable at a onetime flat fee of $30; although major version upgrades could have an unknown cost impact; minor updates (1.0 to 1.2) are included as part of your original fee. The real time reports are simple so you don't get confused too.
Awesome Non Techie Alternative – Clicky
Clicky is similar to Google Analytics in that it requires the same amount of technical chops which is you know how to copy & paste into the global template of your site. My three favorite things about Clicky are real time stats, mobile friendliness and super easy to understand reports even for analytics newbies. There is a free option or if you want all the features it will set you back $60/year for the Pro version (which is the one I recommend).
Especially for Bloggers – PostRank
Some of the biggest blogs on the web are using PostRank including Mashable so that should give you an idea of the quality. The other nice thing about PostRank is that it keeps track of how prominent you are and can help you get in front of other influential bloggers. Start with the free personal version or the free trial then make a decision of if you need a paid plan. I have not used the paid plans so I cannot offer insight into the value add.
Now you have 4 extremely cost effective options that don't require you to give a set of marketing intelligence house keys to Google. You can sleep soundly without wondering if the "don't be evil" mantra is still followed.
I would love to hear about your experience with any of these web analytics tools or others you have used in the comments.