Tweet Box one of Twitter Miracles that can happen @Anywhere on your Blog
The Tweet Box delivered by @Anywhere is a miracle, and yes you can really take it anywhere now 😉
It's free for anyone to use it on any blog/site, the usage is limited only by your own imagination, so let's start adding this feature and see how we can use it on our blogs as a simple and fast way to get feedback from your visitors, or receive their questions which out they have to open the mostly boring contact us page! Using the Tweet Box is much easier for your visitors and for you to interact with them! But that doesn't mean you should remove your contact us page, this is a very important and must have page for any blog 😉
I had a question from Karan yesterday, asking "how did you get that tweet box under the author information after each post?"
This is a good question for me, it will allow me to write a nice fallow post to Linkify Twitter usernames Anywhere in Thesis Theme TwitterLink Comments, and to answer this question I assume you all know that we are running Thesis Theme on this blog, so basically what I am going to talk about (this is what I like to do) should have a relation with WordPress blogs that runs on Thesis Theme!
How Start Fast?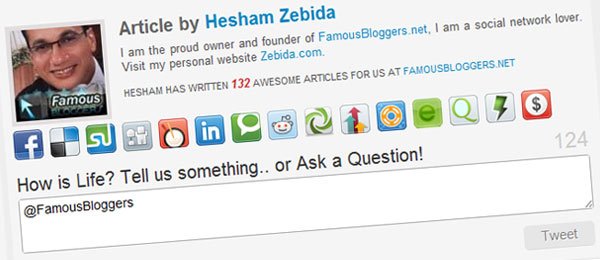 I love the Tweet box because it's provide another way of communication on our blog, and because I personally use it!
You can start by reading my latest post to know how to add @Anywhere scripts to your blog/site, you can jump to step 3 and continue to step 5, in that post I talked about adding Hovercards to Twitter user-name in comments and actually it works everywhere on the blog, but here we are talking about the Tweet Box, basically we will need to remove the Hovercards script and add the Tweet Box script, you can simply get it from the official page, this link will take you directly to the Tweet Box script, also take a look while you are there to the whole official @Anywhere developers page instructions for more information.
Why Tweet Box?
I wanted to add a fast way for our blog readers and visitors to contact with us with out having to use our contact page unless there is something we really need to talk about through email, so… now you have both options to go for, I am on Twitter almost all the time, so I will reply question @FamousBlogger on Twitter if I get any!
@Anywhere Vido
I found this useful video on YouTube:
Other sources of information about Tweet @Anywhere
I will add here some extra useful resources that I was reading when I started to use @Anywhere just in case you want to read more about it:
How to Add Twitter @anywhere in WordPress
I think this is the end, I hope this will help!