3 Ways to Create a Traffic Tracking Dashboard for Bloggers
When you run a website, it all becomes a matter of balancing content with analytics, keeping track of what topic and posts best bring in visitors. It it probably the least pleasant part of owning a blog, especially given the time consuming nature of gathering, studying and utilizing such data. No matter how helpful it is, I have never heard a blogger say they were looking forward to the process.
You can make it all go by a little easier when you use the right tools, however. Here are three excellent ways to create a traffic tracking dashboard that will keep track of all of your monitoring needs for you.
Traffic Tracking Dashboard Tip #1 – Google Analytics Dashboard
You are probably using WordPress as your blog platform. If you aren't, you should be because it is the best you can get, especially for the price. But assuming you do have it, you should download the free Google Analytics Dashboard plugin. It gives you a basic run down of your current analytics in your WP main page. It can be seen by anyone who uses the blog as a contributor.
If you want the tracking codes, use the Google Analytics for WordPress plugin. It is also free, but I have always found the first better, and the need for the tracking codes presented in WP is negligible.
Traffic Tracking Dashboard Tip #2 – Cyfe
Next, we have Cyfe. This is a full social media dashboard that can cover not only your accounts like Twitter, Facebook and Pintrest, but also your blog statistics. It is aimed toward business uses, unlike others that provide users a halfhearted cram of personal use features.
This one is perfect for blog analytics because it combines plenty of tools and platforms and lets you see all your stats on one page. The price is great, with a free version if you want to try out their standard features, and then just $9 – $49 per month, depending on what it is you need from the service.
Some of the supported sites to track your traffic using Cyfe:
Google analytics;
GoSquared
Alexa: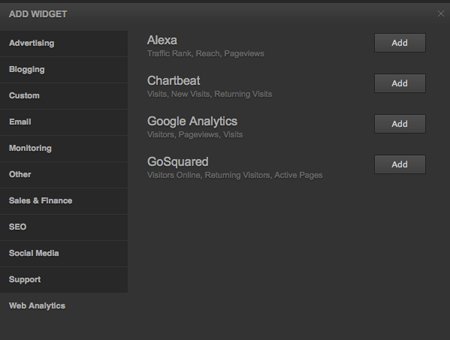 Traffic Tracking Dashboard Tip #3 – Other Google Analytics Widgets
Going somewhat back to the first tip, you can always check out the various widgets that Google Analytics has inspired over the last couple of years. Probably the best are the three presented in this great post by Analytics Review.
Be sure to pay attention to the primary use of each before you download, or you might not get what you want. If you still want a really simple dashboard, the one for WordPress is still your best bet.
Conclusion
If you are sick and tired of spending huge chunks of your time trying to figure out analytics for your blog, just check out these easy to use dashboards that will do the work for you.
They gather the data, build the report and explain the facts for you. All you have to do is read it!