9 Best Social Sharing Plugins for Your WP 2.9.2 Website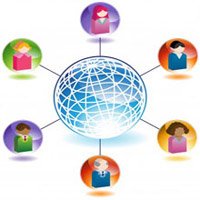 Social bookmarking has continued to rise in popularity because it is an excellent way to leverage the power of website visitors, and their ability to share your content with others.
This not only increases website traffic via referral, but also because it is an effective means of building backlinks to your site.
WordPress has a number of excellent social sharing plugins that are compatible with WP 2.9.2.
Top 9 Social Sharing Plugins Compatible with WP 2.9.2
1. Sexy Bookmarks
Sexy Bookmarks has been around for a while and has proved to be an effective way to get your readers to actually submit your articles to various social networking websites. Sexy Bookmarks has become popular because it allows for readers to see larger icons, which increases the likelihood of them taking action. The goal of sexy bookmarks is to add a little extra flair, with larger icons, to entice your readers to take action. Sexy Bookmarks is continually being modified based upon user requests to ensure that it provides access to all of the sites that you want your readers to use.
2. Social Bookmarking RELOADED
Social Bookmarking RELOADED adds a list of XHTML compliant graphic links to end of the pages and posts on your WordPress website. Additionally, making modifications can easily be done from the WordPress admin section. Social Bookmarking RELOADED supports not only the commonly found social sharing sites, but also sites rarely seen on many of the other social sharing plugins, like: Squidoo, Feed Me Links!, and Forexassessment.
3. AddToAny: Share/Bookmark/Email Button
AddToAny is by far one of the most comprehensive sharing plugins available. It currently allows you to make more than 125 different sharing sites available to your readers. While many people will not use all 125+ sites that are available, it gives you the freedom and flexibility to utilize the ones that help your website out the most. Additionally, there are additional tabs so that your readers can either email the post to their friends or even bookmark the post so that they can come back whenever they want.
4. Bookmarkify
Bookmarkify is a social media marketing plugin that currently includes more than 50 social bookmarking sites. It also includes a "HTML Copy" option that makes adding a link to your posts easy for other publishers. It can even be used in the sidebar with only minor template changes.
5. Digg Digg
Digg Digg has become a popular option because it will actually track and display how many times your post has been shared via the specific social bookmarking sites available. Currently, it only supports 15 social bookmarking sites, but the lack of options is made up for by the unique count display system. The count display system not only lets you know how popular each post is, but also lets your readers know as well.
6. Share and Follow
Share and Follow was designed so that average readers can use it with ease. It is also great for webmasters who are only concerned with the most popular social networking sties. It is very flexible and can be used as a widget, shortcode, template tag, and auto added.
7. Facebook I Like Button
The Facebook I Like Button was designed specifically to allow your readers to make connections to your posts and share the content on Facebook with a single click. It can be implemented with either iframe or XFBML, however for stability reasons iframe is the default setting. Additionally, this plugin has been designed to be highly customizable so that it looks great on every blog.
8. Publish 2 Ping.fm
Publish 2 Ping.fm makes it easy for your posts to be automatically published to the Ping.fm service. You an select the category, the publishing template, and even whether or not you want to post updates. It will even shorten every URL with the bit.ly shortening service.
9. Socialize This
Socialize This makes it easy to create social widget icons for your pages and posts. Very little configuration is needed in order to seamlessly integrate it with your WordPress site. It will also automatically tell your Twitter followers whenever you have a new post, and it automatically shortens URL's and supports 13 social websites.
Social sharing and bookmarking seems to be a tool that is here to stay. Fortunately, all 9 of these plugins make it simple and are fully compatible with WP 2.9.2. They all have their unique features, so it should be easy to find the perfect plugin for your blog.
Tell me if there are other nice plugins out there!