SlideDeck 2.1 Review, Best Video and Image Sliders For WordPress
Content sliders are all the rage these days, having achieved near-ubiquitous status as a User Experience (UX) tool for websites and blogs.
And as with any online application that experiences a sharp rise in popularity, you are likely to see far more examples of poor sliders than good.
In much the same way as Adobe Flash took off in the late 1990s, a lot of web masters have jumped on the slider bandwagon without much thought as to how they can benefit the end user.
Which leads me neatly onto Digital Telepathy – a UX and web design agency based in California. They are the developers of SlideDeck – the product that I am reviewing today.
With their UX expertise, have they been able to produce a slider that is worthy of inclusion in any WordPress blog?
Let's find out!
Just a Slider?
To the uninitiated, a content slider might just be a slider, but that would be doing SlideDeck a disservice.
The vast majority of slider applications available offer only the most basic functionality – typically text laid over an image. Whilst this can be fine for certain simple applications, Digital Telepathy identified a clear gap in the market for a fully-featured slider application.
And when I say fully-featured, I really mean it.
I can confidently say that SlideDeck offers just about every element of functionality that you could possibly hope for from a slider.
This is something we will go into far more detail shortly, but rest assured that SlideDeck is not like any other content slider application that I am certainly aware of. It is one of a kind.
In a nutshell, it's awesome. But I don't want you to take my word for it – let's dig into the finer details.
SlideDeck Version 2.1
SlideDeck has been around for well over two years. What this means is that you are dealing with a very well-formed piece of software. During the testing process I didn't uncover a single bug (something that any free plugin user will no doubt feel rather refreshed by).
The age of the application also means that it is absolutely packed with features. With the advent of version 2.1
[box]I honestly can't think of any additional functionality that I would like to see included (although I'm sure the boys over at Digital Telepathy will think of something).[/box]
So what can SlideDeck actually do?
In a nutshell, it allows you to create any number of slides, and customize both the design and content of those slides to an extremely fine level of detail. That brief description essentially reveals SlideDeck's full functionality, but there is far more to it than initially meets the eye.
Custom Content Slides
SlideDeck's basic functionality enables you to create slides with custom content. That includes text, HTML, images and video. There are no real restrictions within those confines – anything that you can create on a webpage, you can recreate within a slide.
The above is an example of a simple text slide. Although you can use HTML to customize the text as you see fit, SlideDeck comes complete with various inbuilt customization options, such as the multi-column layout pictured. The text slide feature also comes complete with a WYSIWYG editor: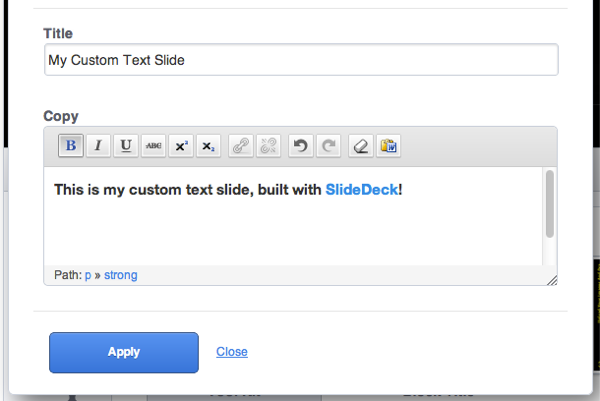 Whilst custom slides are all well and good, if you were to grab yourself a copy of SlideDeck and only use that feature, you would be robbing yourself of some seriously cool features.
Dynamic Content
Anyone who has been blogging for more than a few minutes is aware of the power of social media.
The simple fact is that if you effectively utilize social media, you can expect your blog to grow far quicker than if you didn't. Gaining a foothold in Facebook, Twitter, YouTube and so on can make a huge difference.
One of the key issues is integrating your various "outposts" with your blog. As much as you want to drive people back to your blog from your social media accounts, you also want to lead your readers to those same accounts so that they sign up (which enables you to engage with them for as long as they follow you).
There are many ways in which you can better integrate social media with your blog, but SlideDeck offers a particularly effective method with its "Dynamic Source" feature, which allows you to integrate the following content sources into slides:
Twitter
YouTube
RSS
Instagram
Dribbble
Google+
Dailymotion
Vimeo
Pinterest
500px
Flickr
Google Plus Images
Creating dynamic source sliders is a piece of cake – each service is beautifully integrated. Take this Twitter feed slider I set up:
This was achieved with just a few clicks and the insertion of my Twitter username.
The potential applications here are enormous. For instance, you could include a preview of your YouTube channel as a sidebar widget on your blog:
I could go on, but I think you get the idea.
Lenses and Customization
You may have noticed that each of the mockups I have shown have had a different look and feel. This is down to one of SlideDeck's best features – what they call "lenses". These are effectively skins that you can apply to your slides.
There are nine lenses in total, each with their own unique style:
Selecting a lens is as simple as clicking on whichever option you prefer. The preview display of your slider will change automatically.
That is however just the first step in terms of your ability to customize your content slider. Through a series of tabs, SlideDeck allows you to change the setup, appearance, content, navigation and playback. The level of control you have is superb – there is essentially nothing on the slider that you can't change. Everything from the font style, to the slide display length, and even to the touch sensitivity of the controls can be altered.
Implementation
There are no limitations as to where you can place sliders created with SlideDeck.
Inserting a slider into a post or page is as easy as clicking the "SD" button next to the media uploader:
…and selecting whichever slider you want to insert from the popup box:
Once you have done that, a shortcode will be pasted into the visual editor:
That shortcode represents the slider, so wherever you place it within the visual editor, it will display in the post or page.
SlideDeck comes complete with its own widget, and each slider is accompanied by a PHP code snippet, which you can paste anywhere within your theme's template files.
Weak Points?
As much as I would like to point out a few areas in which SlideDeck doesn't quite get it right, I am struggling. This plugin has been around for a long time, and it shows – it is a finely honed piece of software. There isn't really anything bad to say.
The folks at Digital Telepathy even optimized the pricing. Although SlideDeck was once $79 for a single license (which I considered a bit steep), it will now only set you back $49 – which in my opinion is a very reasonable price.
I can't really think of any other application that directly competes with SlideDeck. Although there are plenty of slider plugins available, I have never seen one that can compete in terms of the sheer depth of functionality that SlideDeck has on offer.