Never scheduled Tweets? Don't do it – Start Buffering instead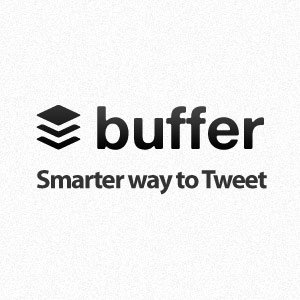 Being consistent on Twitter is one of the hardest parts of social media marketing to achieve, I've found. In order to accomplish it, some swap to full automation software. Instead of that, let me introduce you to a new App which will keep you well on the genuine side of things AND increase your efficiency and your time management on Twitter.
It's called Buffer.
Super Short Description
With Buffer, all you do is throw a few tweets in your Buffer. In return, the App schedules these tweets for you. To make it even simpler, you can add tweets to Buffer from any page you are on with browser extensions. (Chrome, Safari, Firefox)
What is new about Buffer?
You don't need to schedule each tweet individually, you simply add to Buffer.

You can do this super fast from any page you are on, by using a browser extension (Chrome, Firefox, Safari)

You receive full analytics for your buffered tweets to track your impact. (Clicks, Retweets, Avatars of who retweeted and Reach)
Full Details:
Step 1: Add Tweets to your Buffer
The easiest way to add tweets is right there from any page you are reading by using the right browser extension for you (Chrome, Firefox or Safari). Or of course, you can add tweets via your Buffer tweet panel on your home account.
See the browser extension in action with Hesham's post below:
Step 2: When should your tweets go out?
As a default option Buffer gives you peak Twitter times at which your Buffered tweets will reach your followers. Of course you can go back to your account and change these times. You can add more to increase the daily frequency or block them at your personal peak times. Here are my daily tweeting times:
Step 3: Full analytics for your Buffered Tweets
For every one of your Buffered Tweets you will receive detailed analytics in order to measure your impact. Buffer gives you the amount of Clicks on your links, the number of Retweets, Avatars of who retweeted you and the Reach of this tweet. Simply click on "analytics," and this is what you will see:
Clicks on your Links
Number of Retweets
Who Retweeted you?
How many followers did you reach?
How can Buffer help you?
If you have similar habits to me, reading many great blogposts you want to share with your followers every day, Buffer is a must have tool for you. You can add all the great reads you had during the day without flooding your followers with too many updates at once.
If you simply want to get your consistency up on Twitter, Buffer will also be very handy. Get a stable number of tweets out every day and keep your followers up to date with the great articles, quotes, or blogs you have come across.
I feel that simply hitting the Buffer icon whenever I like something is super simple and makes my life on Twitter way more efficient. I can breathe a little easier.
What do you think about Buffer? Let me know below, I would love to hear it.