Add Rich Snippets to WordPress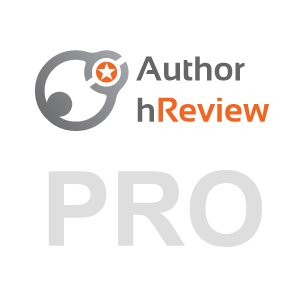 Search is changing more rapidly than ever. Probably you've heard about Google Rich Snippets, and how these snippets are designed to give users a sense of what a webpage may contain, and help them to discover websites that are more relevant to their searches, resulting in higher click-through rates.
Many SEOs and internet marketers implement rich snippets to their websites or clients' websites, especially if they are selling a product online, runs their own e-store, or publishing product reviews.
Review information such as ratings and descriptions can help users to better identify pages with good content.
Finally, I've launched my new Pro version of Author hReview plugin today.
What this plugin dose
The Author hReview plugin adds Rich Snippets to WordPress.
It's designed for authors or editorials reviews. It's made for those who do product reviews, and wants to stand out in search results, increase their conversions, and web traffic in general, which leads to more sales.

The most noticeable feature of the Author hReview plugin is the ease of use. This plugin make use of meta boxes which allows you to easily insert your review and rating information to your blog posts and pages.
So, basically you don't have to go through any technical stuff, all what you have to do is to write your review, add additional information about the product in the custom meta box, and let the plugin take care of the rest!
You can view more information on the plugin documentation page.
Now, let's talk about the real cool stuff!
The Author hReview Launch
You can get this plugin for a special price during the launch time, there is a 50% discount of it's original price.
You get 6 months of priority support and upgrades when you purchase the plugin.
You also get a free copy of the WP Customer Testimonials plugin as a bonus, this plugin will be sold for $45 right after the launch ends. Now, it's your for FREE when you purchase the Author hReview plugin.
Here is what  the WP Customer Testimonials plugin dose:
This plugin adds a new Custom Post Type with support for rich snippets reviews and star rating to your WordPress site, which can increase search traffic and conversion! It has shortcodes to display a form on any page or post of your choice to allow your customers to send you testimonsials directly so you can publish them.
You can see a live example of how the WP customer testimonials plugin works at:
And, the best part is, it validate customer reviews in Google Rich Snippets test tool on the domain front page of your site, I've used my own site as an example to show you how it looks like:
[box type="note"]The information I've used on rating is provided by the plugin page on the wordpress.org plugin directory, I've used this data because simply it's real! You can check how the search results look like by searching for keyword "Author hReview" in Google.[/box]
If you sell a product of any type, you will really love this plugin!
[box type="spacer"]
50% OFF
Get Author hReview Plugin Now!
Plus a FREE Copy of WP Customer Testimonials plugin
[box type="spacer"]
Thoughts or Questions?
Feel free to ask in the comments and I will reply to you.