Start a Real Estate website Today using ElegantEstate WordPress Theme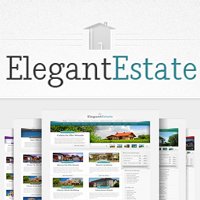 I came a cross some discussion recently at some popular discussion forum, there is one entry that I can not forget till now, that guy was really annoyed because the can not find a good Real Estate design for his website, I don't remember what's his CMS platform, I am not sure if he is using WordPress or not, but I remember very well that he don't like all Real Estate designs he have seen so far out there, he thing of it as designs for kinds, some designers of these days are adding tech touches to their designs, special effects and 3D stuff that makes the look of the site not real, not make sense to him!
Well, I some how agree with that, while designers try to make their best, but maybe they add more elements than a website need, maybe they make the design full of graphics and stuffed their design to show their talents when actually no need to do that. They just forgot that this is a business website, it's not to show their design skills, they just need to make a good looking working website.
I am subscribed to ElegantThemes, and I just got Nick's latest post about his new and awesome WordPress themes news, it's a great collection on ElegantThemes now, it's a must have indeed!
I can not say that there is no good and high quality Real Estate themes for WordPress, but it's kind of expensive compared to the huge collection of ElegantThemes, so.. It's really cool because you actually can start a Real Estate website right away, it will look awesome, you just need to add your best content to it, and you are ready to go!
Start a Real Estate website Today. It's a breeze to set up!
It's amazing simple and clean design, you will get an elegant Real Estate blog or website without having to work hard for it, and yes it's very easy to start your real estate website in no time, for sure you have to have some high quality images of properties to upload, and other content to publish on your blog to rock the realestate world!
Here is how ElegantEstate looks
ElegantEstate Theme features
Of course it has the ePanel Theme Options
Compatible with most knows browsers
WordPress 3.0 compatible
Five Color Schemes
Threaded Comments
Optional Blog-style Structure
Gravatar ready
Advertisement Ready
Widget ready sidebars
Custom thumbnail images
PSD files included
Valid XHTML + CSS
Smooth tabless design
Read more about ElegantEstate There Features here.
It's very smart to design for niches, I would even recommend focus more on niche design! what you think?
Is there any specific designs layout for making money and blogging tips blogs? any thoughts?