Thousands of People are Going to Read this eBook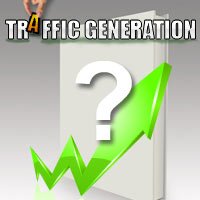 When organizing a blogging contest, you need to develop ideas. You really don't have to go the same old way, even if success has proven to you that you are on the right path. So this time we are creating a new ebook!
Recommend to me an eBook that will teach me one new online tip, and I will love it!
I got the idea for the book from the BizSugar BloggerTone contest. I learned a lot from this blogging contest about the sweet blogging business! And because I love good ideas, and we like to implement good ideas into our Traffic Generation blogging contest, we will create traffic generation resources for bloggers by bloggers. You will be able to get a personal experience from their own business modules in action, and to do this, we will create an ebook!
The Traffic Generation eBook!
The eBook will be about traffic generation methods and tips, and we will include the 20 winners' articles in one Book. It will be available for download for free to everyone who wants to read it, share it, or recommend it to their friends.
The Traffic Generation eBook will include the best content generated by participants of the contest.
What Are the befits?
You will get big exposure
Develop your relationships
Be an author in our traffic generation book
Chance to win cash prize up to $1000
Have fun joining the competition!
You will have a great experience, so don't miss it!
Watch Kim
Kimberly Castleberry has participated in our last blogging contest, and she was one of the winners. It was really cool to watch this video from her after the contest.
The video: CommentLuv & FamousBlogger.net Challenge Results are in.
How to participate?
To be part of our Traffic Generation eBook, you must participate in our big contest. Visit the Traffic Generation contest information page to participate, write and submit your killer article about traffic, and you are in! We will get in touch with you.
We've got amazing entries so far and will still be rocking more awesome articles in the coming 2 weeks! So, remember.. 15 days left and entry submission will be closed, so hurry up and give it your best shot!