Traffic Generation Blogging Contest Information Page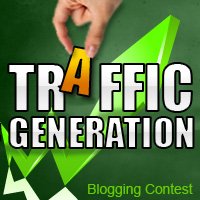 This is the Traffic Generation Blogging Contest information page. Basically, this is a writing and popularity blogging contest. That means you have to write unique article about website traffic generation, submit it to our blogs, then promote it on the internet through social media and bookmarking site to get as many responses as possible. Our judges will decide the winners. We will give points based on the number of quality comments on your post and how many times it was tweeted.
Brought to you by:
ComLuv.com, IBlogZone.com, MyBlogGuest.com, and FamousBloggers.net
This page will be updated eventually, so please make sure to bookmark it.
We've created this page to include the most important guidelines, rules, sponsor links, article ideas, and other helpful information.
Please, make sure to visit all pages and links above to get a full picture of our contest! (all links to pages will be included soon! Please visit back in a few.)
You can read and track all entries in the contest by visiting the Traffic Generation Resource page!
Our contest sponsors
We would like to give a special thanks to our sponsors for such great response. We've raised almost $4000 in cash prizes so far, and the $100 sponsorship spots are already taken. If you would like to receive information about available sponsorship levels, contact us now. Sponsorship will close at 15th of March.
Special Thanks to our Sponsors!


Main sponsors
– Longest.com ~ GoDaddy Coupon
– WordPressThemes.com ~ Premium themes for WordPress
– BlogDash.com ~ The Blogger Outreach Dashboard
– CueRank.net ~ Keyword ranking tool
– SMSCoin.net ~ SMSCoins on-line payments
– BlogInteract.com ~ Join Our Blog Engagement Community!
– Waatp.com ~ Free people search!
Ideal sponsors
– JoeLane.com ~ Kennewick Homes
– WPHostingDiscount.com ~ Webhosting Discount Coupons
– BasicBlogTips.com ~ Blogging Tips, Video Tutorials and Social Media Optimization
– TheMonogrammedMartini.com ~ Personalized Gifts
Basic sponsors
– Kikolani.com ~ Increase your chance of winning blogging contests with Blog Post Promotion!
– DanLew.com ~ Dan Lew, the Internet Marketer!
– AIDYsPoetry.net ~ AIDY's poetry and writing Blogpoetry and writing!
– VerticalMeasures.com ~ Vertical Measures, Internet Marketing Service!
– MonsterAuto.ca ~ Monster Cars!
– CreditCardsCanada.ca ~ Monster Shoppers Optimum MasterCard!
– SEO-Writer.com ~ Blog writer for hire!
– FreeiPhones4me.com ~ Get a free iPhone!
– SporkMarketing.com ~ Spork Marketing!
– Invesp.com ~ Conversion Rate Optimization!
– NursingUniforms.net ~ Medical and Nursing Scrub Tops!
– CN.Go-Globe.com ~ Guangzhou Website Development!
– BestTravelWebsites.com ~ Travel Directory!
– ArrangeYourVacation.com ~ Vacation Rentals!
– 1001WallClocks.com ~ Wall clocks shop!
– BaltimoreDUILawyers.org ~ Baltimore dui lawyer directory and informational site!
– School-Fundraisers.com ~ School Fundraisers!
– AndroidGeekTips.com ~ Best Android Deals!
– Adrenalin.com.au ~ Gifts for men!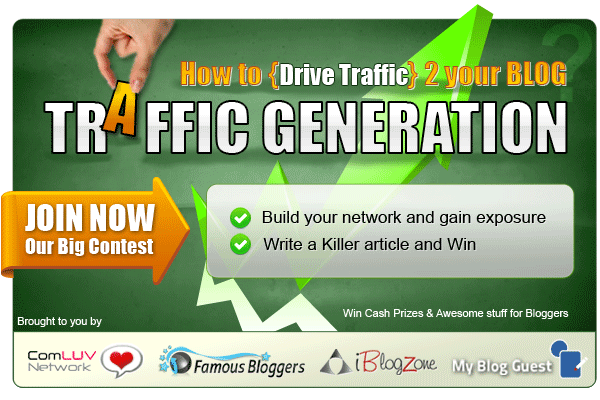 Contest Deadlines
Here are the important deadlines for our 2011 website Traffic Generation blogging contest:
Article submission is

now open

!
Publishing starts on the 1st of March
Article Submission ends on the 31 of March
Promotion Ends at 15 of April
Pronouncing winners at 30 April
Delivering prizes in two weeks after pronouncing winners
You don't have to wait, start now! Create your Account at ComLuv and start writing your post.
Article ideas
The idea of the Traffic Generation contest is to generate great and unique content on the topic, so we will accept articles that provides an answer for a very important question. This question is how to drive traffic to your website?
We will create a special blog post that gives you plenty of article ideas. Some of these ideas are suggested by us, and we will ask our readers to suggest topics for the contest articles as well, so please visit the website Traffic Generation Article Ideas post and add some suggestions.
Article publishing
The Traffic Generation contest is a joint contest. Articles will be published randomly on one of our blogs: ComLuv.com, IBlogZone.com and here at FamousBloggers.net. Publishing will be by order, and it's based on submission time. We will notify you once your post is published by email or through Twitter so you can start promoting it.
Very important – Please note that we need to centralize our submission process, and because of that, you must be a member of ComLuv.com community to be able to participate in the contest.
Andy has created a nice WordPress plugin to manage article submissions on ComLuv.com. Once you login to your account, you will find a new menu in your dashboard. That's where you can submit your articles. We will take it from there and start working. We will contact you and let you know where your article will be published and what exactly you need to do to complete the process.
Click Here to get details on How to Submit your Article!
Our Traffic Generation eBook
This is a big chance for everyone involved in this contest to take part of our coming website Traffic Generation Tips e-Book. We will produce this book based on the best content submitted in the contest. It's going to be great promotion for everyone who is involved in the contest, whether you are a participant or a sponsor, so make sure to be part of our contest and don't miss this big event.
The website Traffic Generation Tips e-Book will be released on the contest organizers' blogs, and it will be available for download for Free!
How many winners and prizes?
We usually don't decide because we don't have complete information about prize amounts as sponsors are still contacting us everyday, and we are getting a lot of great response. However, we always want more people to be happy. This is why we are planning to have no less than 20 winners, and the first prize will probably be around $1000 cash.
In the last contest, out community saw how we work hard to get things done and how much time and effort we put in organizing our blogging contests. We actually got a lot of feedback telling us to cut off a percentage of prizes for organizing work. We couldn't do that last time because it was late, and we hadn't mentioned it at the beginning or the middle of contest. So, we've decided this time to cut off 30% of sponsorship to award organizers for the time and effort they spend behind their computers managing the contest and supporting participants, and 10% of the 30% will be given as a donation to charity of choice.
Something missing?
Now, as you might feel, this is going to be a massive blogging contest. We would like you to participate and share your best tips with us. Yes, it's a competition, but we all should help each other out and show good spirit.
I will be your guide, so never hesitate to contact me by email at any time!
If there is something missing from this post, please let me know. If you have any questions, please ask!