Patent Wars Stifle Innovation [Infographic]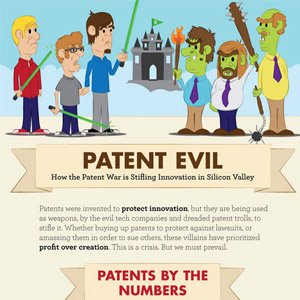 There's one great thing that the tech industry does: Innovate.
As innovations in technology continue to advance, hopes are that the advancements help the economy becomes more efficient, streamlined, simply a much better place to live in. Unfortunately, with innovations comes the one of the most 'evil' things the tech industrty has ever seen; patents. I know that patents are here for a reason. It's to protect the good. However, tech companies have seemingly taken something created for good and have used it in their greedy and selfish ways.
We hear a lot about patent lawsuits
And, major tech companies going to court. It seems as though the second I read a headline about a patent lawsuit, I turn my head in shame and disappointment. As amazed as we all are about the innovations, think about how much more we could be amazed and intrigued with today's creations. Imagine what the possibilities would be if the patents were used merely for good (meaning not putting a patent on everything, just in case someone ever comes up with a prototype or product). Would there be technology out there today that we could use in our everyday lives that may make life a little better and a bit easier? Who knows?
Patent War in Silicon Valley
This graphic by MBA Online illustrates the evil behind tech companies and the lawsuits on such that occur. It seems as though they're wasting their time and money on 'who got it first' and less on the actual innovation. It's human nature to be more or less selfish, but this, is absurd. Check out the graphic below.
Created by: MBA Online