3 Important Skills for a Blog Commentator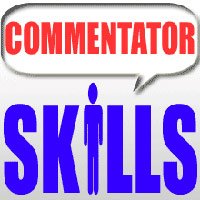 Comment Marketing is the most easiest and probably the most effective for Blog Marketing. If you are a blogger you love getting comments as well as posting comments. Commenting is not a very difficult job but if you do a small mistake, your comment is a waste. Only good comments are the ones which receive praise and appreciation. Now I am here to not lecture you about how to do comment, what to comment and similar stuffs.
I am here to reveal 3 Important Skills you as a commentators should posses. No matter what kind of blogger you are, whatever your age or knowledge may be you should the learn few skills which will help you as a commentator. Gautam said in one of his post here – " You're only as Good as Your Comments ". So a commentator need to be good at commenting and posses some skills.
Anyways lets have a look at those Important Skills with out wasting any more time.
Speed Reading Skills
Speed Reading is a collection of reading methods which attempt to increase rates of reading without greatly reducing comprehension or retention. There are many methods to enhance your speed reading. You should either practice any one of already proven techniques or you can devise your own method. In speed reading you try to read a article as quickly as possible grasping the important point only.
Speed reading is so powerful that you can read a 500 word articles in almost 20% of time taken by any normal reader. What it mean is that you can read almost 4-5 articles when others have read only one. A commentator need to learn this skill to increase his efficiency as a commentator. With speed reading you can read more articles and comment more. And you will use up less time. More comments in less time means more efficiency with your comment marketing and more traffic.
Instant Decision Making
You must be thinking what Decision Making has to do with commenting. Well I do not blame you for thinking like that. You never realized how important is it. Let me explain you in simple words. When we read a article we either decide to write a comment or not. It happens many a time that we waste a little more time than usual thinking on this issue. If you are good at decision making you can take a quick decision and save time.
Even if some are quick at making the decision of making a comment, they get struck at "What to Write?". Instant Decision Making will help to minimize this thinking time. Take quick decision on what to write in a comment and write a comment faster. This is a general skill so learning this will be easier. And it will help you other aspects of your life.
Impulsive Writing Skills
As a commentator your target is impress the author and other readers with your knowledge. You put your knowledge in words in the comment form. If you do not write it properly, its of no use. You are same as the general people. Your comment needs to be impulsive. You need to show that you have got confidence and knowledge.
Being Impulsive in your comment will create interest in author and other people. They will feel some attraction towards your comment. It will force other people to reply to your comments. You will be able to engage in good relationship with fellow bloggers. You can only learn this skill with experience.
Speed Reading, Decision Making and Impulsive Writing are all very Important Skills if you want to be a better commentators. Learn these skills and you will see that you have become an Expert Commentator in no time.
Which one of these skills do you posses? Which of the above skills do you think is more than necessary for a commentator? Do share your views on the above mentioned skills. If you have any doubt or question shoot it in the comment form.
This post is part of our amazing Blogging Contest, plz add a comment and tweet it to support the author.