Link Wheels: The Coolest Thing Since Electricity?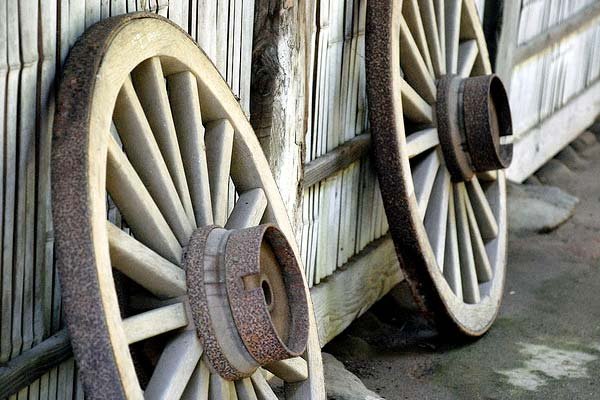 Link wheels – all the cool kids have them, so why don't you?
"What's a link wheel?"
Fine, let's start there.
What IS a Link Wheel?
Link wheels are a method of one way link building with a twist.
There is one property in the middle of the link wheel, usually your "squeeze page" where you entice your visitor to cough up their email and name in exchange for more information or whatever you bait your "hook" with.
(Can you imagine me fishing?).
In other words, your "money page" is at the center of the wheel, where you want your reader to buy something or take another action, like give you the keys to their home in exchange for a thank-you note.
For example, your website opt-in page could be in the middle of the wheel.
The "spokes" of the wheel are properties such as another blog you run, or Weebly, Tubmlr, WordPress.com, Squidoo, Hubpages, etc…
You get the drift. Usually link wheels leverage any one of the endless "web 2.0" freebies where anyone can post, and where there is traffic already.
The "twist" is that these properties will have two links, generally: one to your main "money page" and one link to the next property in the link wheel.
Are you still with me?
(This gets much more exciting, grab the popcorn…done popping?)
What Are The Benefits of Link Wheels?
Unless you simply love writing until your nails break, this sounds like a lot of work, right?
Of course, it's for a reason. The two main reasons for a link wheel are to improve your search engine ranking (for the "hub" or main page), and –
– what's the name of this blog? –
For traffic! More traffic, more customers, more customers, more sales, more sales, more single-serve coffee packs for Ana. 🙂
Do Link Wheels Work?
Yes! They work.
The good news is that you can outsource this work for pennies, click a button, and "Poof!" You're at number one in Google for any terms you desire…
Yeah, right.
It's not that easy, and here is where I say, let's re-invent the wheel.
First, if you want to outsource, there are services galore and software that you can try. I don't have a single recommendation at the moment for two reasons:
1) The software usually requires spun content – where you take perfectly great articles and blend them in a garbage disposal: presto! Unique garbage.
Can you tell my thoughts on spun content? Good.
2) The services usually cost an arm and three legs to buy – so I recommend you try it yourself before ever buying any service. Sure, you can find services that work, but bear with me.
Link Wheels Vs. Merry-Go-Rounds
Having read a number of sales pages and heard testimonials from others, I know that many of these services will do one of two things in most cases that I don't approve of.
First, many of these services will simply steal content and re-write using a spinner software.
That is not good business in my opinion for obvious reasons, but also consider these questions:
Do you want your potential visitor to find this re-hashed, half-legible junk of an article and have that lead to your website? I wouldn't.
The second thing many of these link wheel services do is recylce the <<<>>> article and use it for ALL the properties in the wheel.
I can't believe so many people pay for re-hashed articles, when the visitor will likely be turned off before clicking to your main site. Can you imagine their frustration of a wild goose chase reading the same thing over and over?
There are likely some services that do a better job at this – but sadly, many of these services will simply post 100-200 words and include a link.
If you had read 4-5 "articles" that were the same 100 words – what do you do when you finally get to the main site?
If you're me, you never make it to the website. You get off the merry-go-round quickly, once you get sick of reading the content.
Additionally, with the recent, very widely talked about Google Panda update, original content is what we are after.
Re-Invent The (Link) Wheel
We want the benefits of the link wheel (traffic and better rankings in Google), but we don't want to make our visitors sick. If you haven't guessed by now how to do it, it's simply to treat your visitor the way you want to be treated.
The Golden Rule applies in business, of course – and helps you build your reputation before your visitor even sets foot on your website.
This part is not as complicated as many people make it seem – armed with nothing more than a spreadsheet, you can make short work of it.
Here's the plan:
1) Use Market Samurai (or whatever you use) to do your keyword research. You are looking for at least two keywords: one which you will use to link to your website (anchor text), and at least one keyword to use to write about in your link wheel.
Pro Tip: don't use the same keywords for your anchor text that you use for your content on the link wheel "spokes."
Don't get too confused here, it's not that complicated.
Let's pretend you wanted to rank your website for the keyword phrase: "network marketing tips".
Simply use that as your keyword for the anchor text that you use to link to your targeted web page.
Do NOT use "network marketing tips" for the content of your articles in the wheel itself. Instead, use related terms that are relevant.
Why? This way, you keep everything relevant and won't compete against your main site in rankings.
The "trouble" is that these web 2.0 websites will rank very nicely in most cases on their own, usually easier than your main website will, because they're authority websites with hundreds and thousands of pages. (once again, we are not talking about article directories or any other properties affected by Google Panda update)
I like to keep things as simple as they can be. To keep your link wheel project in order, simply make an Excel (or OpenOffice, etc.) spreadsheet with these columns:

Link Wheel Name/URL – This is obvious. You want to keep track of where you posted (it's best to use different web properties as parts of the wheel, so ONE WordPress.com, ONE Blogger.com, etc. per wheel).
Content Keyword – This needs to relate to your anchor text so it's all relevant for the visitor and also for Google. This will be the anchor text used to link from one link wheel property to another – so they rank for the keyword in question.
For example, if your main web page is targeting "Network Marketing Tips" – you might write content for your link wheels using the term "Multi Level Marketing Success" or something like it. The benefit is that you will get traffic from both terms!
Anchor Text Keyword – The term(s) you want to rank your web page for (you can use the same one or different keywords, it's up to you, as long as the terms are all relevant to the page).
Linked To – Keep track of which "spoke" links to what so you avoid "2-way" or "reciprocal" links.
Or you can use Notepad and keep your link wheels in a folder, titled with the "money page" title, "Network Marketing Tips," or whatever you decide.
This makes the link wheel project much smoother and less of a headache. It's much simpler once you get started.
Key Points to Bear in Mind
There are some "catches" you want to watch out for:
Don't use 2-way or reciprocal links between your properties in the link wheels. This is just to reinforce what I already said – and the reason is that you will lose the benefit of rankings that a one-way link provides.
Make sure your visitors have a nice trip. You don't want to link from Blogger to Weebly using the same article, for example, but try to make sure your visitors have something to think about. Hopefully you can pre-sell them before they get to your website.
Leverage the traffic from popular websites. YouTube, HubPages, Squidoo, WordPress, Twitter – these websites are traffic hogs. Wouldn't you like some bacon? 😉
You can "borrow" some of that traffic, using this method.
Simply build pages or social profiles with links (and make real accounts) on these high traffic websites.
Then watch Google webmaster tools and analytics to see the numbers add up over time: you'll get real traffic.
You don't have to "close" the wheel. In fact, some argue it's best not to close the link wheel – but this is up to you.
SEO opinions change more than the weather.
When writing the link wheel articles or making the videos, think of your visitors' experience. What questions are they asking that will lead to your site?
Which benefits are they most interested in, or fears, that you can address? These are excellent ways to think of content for your link wheel properties, if I do say so myself. 🙂
Marketing Takeaway
By now, I've been talking about wheels so long, your head must be spinning!
Don't get discouraged, however – just stay focused with a simple spreadsheet and plug away.
By focusing on one page at a time at the center of your link wheel and then building link wheels as described, I'll wager my Sunday cup of coffee that you'll see a jump in the traffic, sales and rankings.
As your site climbs the SERPs, you'll already enjoy traffic from these high-ranking, high-traffic websites you'll leverage in the wheel.
Why choose either Social Media traffic OR SEO traffic, when link wheels give you both?
What are you waiting for?
Fire up Market Samurai and find 5-6 keywords to use for your first link wheels – then tell me how it went!
image: The wagon-wheel effect