Follow the Give-and-Take Formula to Make Money Online Quickly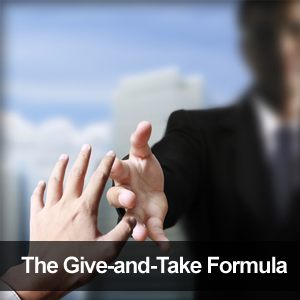 Thankfully, the internet has no age or background bar. Simply anyone can make money online. Whether you are a college student, a single mom or a young entrepreneur, everyone can seek opportunities to earn money.
The opportunity is simple: the more each individual gives, the more each of us ends up getting. – Seth Godin.
Earning money online is quite simple. The more you give, the more you get. Initially, marketers need to focus on the 'giving' part. When you start giving to people, you are getting ready to reach a point where people will be eager to help you achieve success online.
'Giving' could mean a lot of things. So, what things can you give so that you start making money quickly in return?
Time (manage it efficiently)
Making money online is certainly a vital project. To make your project successful, you should first of all determine how much time you are going to devote. That doesn't mean you need to spend hours and hours browsing the internet. Time should be managed effectively.
You need to prioritize what's urgent and what's important. You need to create a schedule so that you can invest your time in a targeted manner. It is not the quantity of time that matters. Instead, it's the quality of time spent.
Money (stay within budget)
Though, at the beginning, it may seem that things can be done without spending any money, the reality is different. In order to make your project bring you real profits, you should be ready to make adequate investment.
What's more, you may need to invest hundreds or even thousands of dollars to establish a successful online business. Therefore, it's crucial to plan your budget in advance. If you are in need of outside resources to complete your project, don't forget your budgetary considerations.
Advice (make it available at no cost)
People over the internet are hungry for information, which is made available to them for free. In order to make money online, you should be prepared to provide free advice to your target audience.
Most importantly, the free advice should be targeted at solving the day-to-day problems of your target market. Dig out the problems that your audience is encountering and provide them solid advice, at no cost.
You need to put some money into the bank before you can actually draw it out. If you plan to make money online, you should focus more on 'giving' first. If you start paying attention to the 'taking' part at the beginning, you'll simply dilute the impact that you actually want to make on the audience.
If you are planning to launch an online business and expect to earn money from it too, create an effective strategy. In any case, don't forget to include the give-and-take formula into your money making plan.
I hope you find the above mentioned moneymaking tips convincing. If you want to share your views on the topic, please feel free to use the comment section below.