How to Use Geolocation Marketing to Green the Planet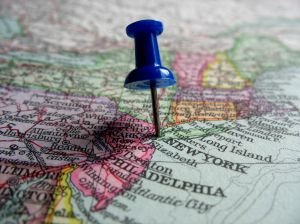 Geolocation, like so many other services of the 21st century, came in with such a rush that many of the less aware businesses still don't know it exists.
For that very reason, using these location-based services provides an excellent way for small green business to get an edge on more established traditional competitors.
This article will give a brief rundown of how these services work, how you can take advantage of them, and why it's so crucial to get on-board now.
How Geolocation Works
While there are several different geolocation services, each of which has its own specific approach, the overall scheme is fairly similar. A user downloads an application to a smartphone (preferably one enabled with GPS) that lets them call up nearby businesses.
All businesses within quick walking distance are showcased, but users can also narrow them down by type. Once the user has arrived at the business, they can interact with it on the application — by "checking in," rating the establishment, and more.
Every action that someone takes on one of these apps will be broadcast to their friends (sometimes through the app itself, other times through popular social sites such as Facebook).
Users receive "medals" or other recognition for checking into more locations, giving them an incentive to explore. Additionally, repeatedly stopping into the same locale can make that user a "mayor" of the location, so there's a built-in reward for customer loyalty as well.
How Green Businesses Can Use Geolocation
The first thing you need to do is be certain you appear in full detail on all the major geolocation apps. Most of them will pick up physical locations already, but you'll want to double-check and add a basic blurb about what your company does, preferred contact information, a picture, and anything else you want to be readily visible.
Here's a basic checklist of popular geolocation services:
Foursquare
Peekmaps
Google Latitude
Google Hotpot
Facebook Places
Whrrl
Loopt
SCVNGR
Once you're set up, take it the extra mile by offering your geolocation users an incentive to stop in, earn badges, and become mayor of your establishment. By offering a simple discount (10% should be enough) for users who found you through geolocation, and a freebie for anyone who achieves "mayor" status, you will be able to fully exploit the built-in features of these powerful apps.
Further, several of these applications offer reporting that can give you a stronger understanding of your customer base. Foursquare provides the best example, as it will tell you who your most recent customers are, how often people check in, the basic demographics of your visitors, and more.
How to Use Geolocation Marketing for Fundraising
While nonprofits have yet to join the geomarketing rush, a few innovative nonprofits are using Foursquare for fundraising.
Last year environmental nonprofit Earthjustice partnered with Foursquare on a mobile fundraising campaign. Earthjustice placed ads all over San Francisco encouraging viewers to "Use Your Cell to Drill the Oil Industry". For every check at an Earthjustice Ad location, a donor would donate $10 to help stop unsafe oil drilling.
Why You Should Get Involved Now
Right now, there are over three million 4Square users, and millions of other users across the competing platforms. More importantly, each of these users checks into more than 30 businesses each month on average.
Furthermore, geolocation technologies are advancing significantly, with the innovations in the NFC (near-field technologies) industry making integration between phone apps and brick-and-mortar stores smoother and more versatile than ever before.