Engagement From Scratch: Two FREE Hard Copies Giveaway
Have you got a chance to read this amazing book by Danny Iny? Not yet? Well, today we are giving away two free copies of the Engagement From Scratch Book to our blog readers. Danny -the author- have got Guy Kawasaki, Brian Clark, Mitch Joel, Danny Brown and many other wonderful superstars whose ideas and experiences are shared in the book! Simply this book will inspire you!
Read my review of Engagement From Scratch to know what you are getting!
You are going to love the Engagement From Scratch
The book has a Kindle version (also a PDF versions in case you don't have a Kindle!
But, guess what?
While talking to Danny about the giveaway, Danny and I made a deal to deliver Two FREE Hard Copies of the Engagement From Scratch Book to the winners, this means you will get a real book! And trust me, it's a completely different feeling to have a real book in your hands!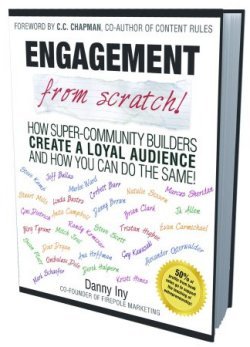 Also, we will ship it anywhere in the world, so where ever you are, we will reach you and deliver the book to your home!
Here is the deal of this giveaway:
Take a minute, share the giveaway, add a comment below this post, and you are done! (this is all what it takes to get this book for free)
We will announce the winners of the Engagement From Scratch giveaway in one week.
Good luck!