Download WordPress Great Pens Plugin for Thesis Theme Multi-Authors Blogs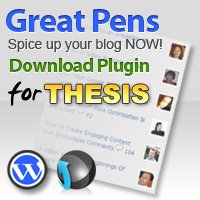 If you know me, then you know that I love to work with Thesis Theme, and probably you know that I have redesigned our blog recently, I added some features and enhancements to it's layout, and one interesting addition is the "Great Pens" widget on the sidebar, it has a list of our recent authors and their article links, also if you notice, clicking on the author's avatar/image will take you to his/her blog, this means extra link has been added allover the blog, this is amazing because I have no idea how many backlinks this widget could give to each of our guest bloggers considering total number of posts on the blog.
Update: Latest Contributors with Images Widget is available for download!
You Asked for it!
Some of my dear friends and readers asked me to share the code I am using here on our blog, and I have no problem with that, I even created a nice WordPress plugin -my first plugin- today and added the code into it, I call it "WordPress Great Pens". Installing this plugin will add a new widget to your WordPress, it will allow you to display a list of your recent contributors depending on your blog categories, along with a link to their latest articles, plus number of comments.
By this way you don't have to suffer from adding the code manually. However you still can find the code inside the wp_great_pens.php code and even the style.css file has all needed styles!
I would like to mention that Great Pens plugin will list only 6 authors, this is the default, there is no options panel for it, this means there is no way to increase the list of authors rather than editing the wp_great_pens.php file.
Don't worry, it's not that that hard, there is a note I inside the file, you will find it easily!
Just search for "//Number of related pens that will be shown". Remember, be careful while editing any file on your server! OK?!
Is it FREE?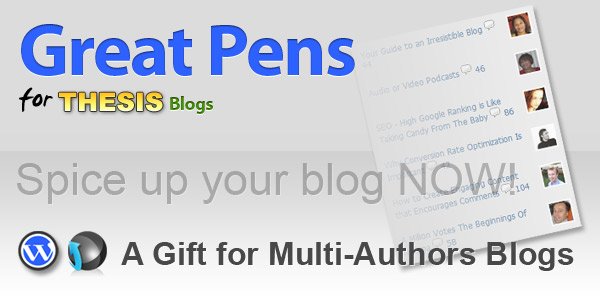 YES! it's a GIFT for you! Feel free to use it, share with your friends, edit the plugin, and do what ever you want with it! All what I am asking is some credit or a small mention on your blog and maybe linking to this post,  just to spread the word in a try to reach more people who are looking for something similar. I am asking for this favor because I am not planning to develop this plugin anymore, but I am just imagining there might be someone interested in developing the Great Pens plugin once they discover it, so.. I hope they will find it through your blog!
Plugin installation!
As simple as any other WordPress plugin! no extra work, just extract the file and FTP it's content to your wp-content/plugins folder
Read Before you download WP "Great Pens" plugin!
Pay attention plz, this plugin works tested on blogs that uses Thesis Theme, some parts of the code may not work on your blog if you not using Thesis!
So PLZ be careful with that! you still can download the plugin and check it out, maybe you can modify it to work on your blog theme. I appreciate if you share your version or modifications with us!
Note: Probably you will get this warning message after activating the plugin:
The plugin generated 2 characters of unexpected output during activation. If you notice "headers already sent" messages, problems with syndication feeds or other issues, try deactivating or removing this plugin.
After searching, I found out that this is a minor warning message, you don't have to worry too much for that message, add the widget to your sidebar or footer and if the plugin is working as expected them just ignor the message. This plugin is tested on WordPress 3.0.3 and Thesis 1.8.
Note: download require sign-up for ThesisAwesome.com free download center
Ready? Download WP Great Pens plugin!
Enjoy!
Trying, and let me know how it looks on your blog!