Bloggers Need to Care About Their Computer Too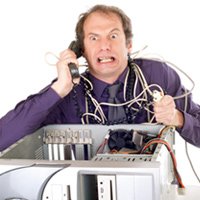 If you are a blogger, you most likely have your own computer and work from it daily. This means that you will definitely need to be caring for your computer to ensure that it stays in working order at all times.
Today, I'm going to cover some simple routine maintenance and prevention strategies so you can save your computer from disaster.
First, I am going to cover the different types of software you need, which are:
Having all of this software to hand is the key to successfully caring for, maintaining, and repairing your computer if it gets slow.
First, you have the AntiVirus, which helps you to scan and remove viruses. Then you have the spyware/malware removal tool for removing any nasty infections. Thirdly, you have a junk cleaner, which is software known as CCleaner. Finally, to put a wall between you and the Internet, you will have a firewall.
The key is knowing when to use these programs for arising problems or for maintenance to avoid problems. You will not need to worry about figuring this out, as I breakdown when you should use the software and in what order.
Weekly or Monthly Tasks
Weekly or monthly tasks are to help fend off any major issues with your computer. For this, it will mean using your AntiVirus software, spyware software and junk cleaner. Running all three each week or month is necessary to keep the amount of infections and junk on your computer minimized.
When Your Computer Gets Slow or Infected
If your computer gets slow or infected or has any odd software popping up, you want to do the same as your weekly/monthly tasks only ensuring to start with using your spyware/malware software, as it is the most powerful in removing the worst infections that are causing most of the issue.
In conclusion, if you take time to try this exercise today and get used to the process, you should generally never have any major computer issues and thus never be held back from cranking out a new blog post. I can answer any questions in the comments section.