Building a Business Website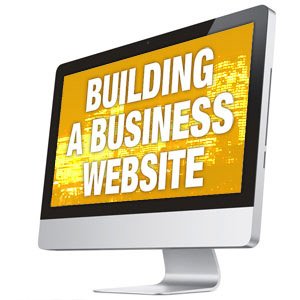 It's fairly simple to create a basic business website, but creating a business website that will increase your revenues and create a tribe of enthusiastic followers involves a continued effort.
One of the first questions you need to ask yourself – or be constantly asking yourself – would be about your market. Who is my website for and why will they want to come back to my site time after time again and, potentially, buy my stuff?
Who are you talking to – and how?
A business website has to be created with its target audience in mind. A website that looks great, but has little relevant content is doomed to fail. Content is the most important thing on a website – and, look who's saying that, a web designer!
Work out what problems this target audience will have. How can you help them? Hang out in the places they hang out – forums, blogs, LinkedIn and Facebook groups. You'll quickly pick up an idea of the subjects that concern them.
So you've established the target audience and how you want to reach them. You also need to determine what their ideal course of action would be while visiting your website. This could be anything from ordering products or services to subscribing to a newsletter.
Another thing you need to be is unique! Don't go out there and write about the same old boring solutions to the same old boring problems. Be distinctive, forthright and even opinionated. Try to find your voice. After all, doing what you want is one of the benefits of running your own business.
The Right Domain Name
The domain name is also important, and should reflect what your business is about, with some indication in the name itself, i.e. 'Bill Whatsisname's Flowers' rather than just 'Bill Whatsisname'.
The domain extension is also important, as it will indicate to visitors whether you are concentrated on your own country or have a global reach. The TLD (Top Level Domain) 'co.uk' should be used in the case of a business concentrating on UK customers, and '.com' should be used if you are looking for customers both inside and outside of your own country. '.net' was originally meant for sites that contained a "network" of other sites but now it serves as a useful second best to '.com'.
The Importance Of A Fast And Reliable Site
After acquiring your domain name, finding a suitable hosting package is the next step. For new business websites the amount of webspace is not going to be so much of an issue, but speed and reliability always are.
If your website is slow and is often unavailable then that is lost business, and those customers may never come back – even after any problems have been resolved.
Furthermore, Google takes the time your website loads as an important ranking factor so finding a good fast host is imperative.
Web Design
If you are looking to get a designer then look around for sites you like the look of and find out who designed them. Even if you can't afford them, this list will provide a useful reference point for the designer you do use.
When it comes to designing the website itself, a logo can be a good starting point. Again, wander round the net taking screenshots of logos you like and make notes as to why you like them. You can use Pinterest boards to collect examples of typography, color schemes or imagery you think would work with your site. Your designer will love you for this!
From there the pages of the website can then be created. A good designer will show you a visual mock-up of how the home page will look on different devices at this point. This will significantly simplify the design process.
Business website basics
We haven't got time to go through all the elements of a successful business website but here are the most essential points:
A simple well laid-out home page that immediately shows the visitor what the business and the website is all about and how it can help them.
An easy to navigate to "About Us" page which concentrates on the visitor not on the business
An easy to navigate to contact page
A regularly updated, relevant blog with numerous well-written articles both long and short (easier said than done, that one!)
Small but well-positioned social media icons to enable the visitor to access the most important social media profiles for the business or "vote" for the site through social media.
A website that's responsive and looks good on smaller devices such as smart phones and tablets
One obvious but understated call to action which enables the visitor to perform the one action that is considered to be the most desirable to the business.
Maximise Traffic
So, once you have your business website set up and you are writing great blog posts which are useful to your target audience, this is not all! You need to do a bit of work to attract visitors to read those blog posts.
If you do basic on-site SEO (a bit of keyword research and making sure you add keywords to the titles of your blog posts) you will find Google sends you a bit of organic traffic. You can supplement this by seeing what's successful on Google Analytics and writing more of what your visitors want.
Read other blogs in a similar niche to yours and propose guest posts to the ones with the best reputation and traffic figures. Published guest articles on other blogs will expose you to a new audience within your niche as well as giving you much needed quality relevant links which Google look upon favorably.
Social media is also very important for traffic. Twitter and Facebook buttons make it easy for others to pass on info about your pages to their contacts as already mentioned. But you should also engage heavily with people in your niche through a small number of social media sites (Twitter, Facebook, LinkedIn and Google+ being the most common). This will heighten your profile with your peers and make the sharing of your articles more likely.
You can do it
You can create a useful business website (with the business website essentials) that can gather a loyal following and generate income for years to come. It will take time but as long as you stick to your path and follow the above advice success will not be too far away.