3 Smart Ways To Skyrocket Conversion Rates & Not Annoy Your Readers
When it comes to increasing conversions, you as a blogger are in a tough spot. You have to find balance between converting visitors to subscribers and also making your site "inviting", or not too aggressive and annoying in it's pursuit of more opt-ins.
While you might have seen things like pop-ups and feature boxes work, even these great methods can cool off and your conversion rates will start to level out.
So how can you keep things fresh and increase conversions?
Below I have 3 fresh strategies for capturing more emails while not annoying your readers.
1.) Scrolling Sidebar Opt-in
This might sound a bit confusing, but hear me out.
I've seen this strategy used a lot on design blogs, mostly because those bloggers are really into the latest emerging trends in design.
However, I've yet to see it used on a big marketing blog until just recently, and no surprise, it was the well designed and meticulously tested KISSmetrics marketing blog.
Here's what I saw when I clicked on the latest KISS article by Danny Iny:
But I noticed something unusual…
When I scrolled down to continue reading the article, only the header (with the KISSmetrics logo) actually left the page.
The content was scrolling, but everything seemed to be the same somehow.
It didn't take but a second to realize that it was because the sidebar was scrolling with me.
Basically, the sidebar was "sticky", it stayed with the page no matter where I scrolled.
Let's take a look at the contents of this sidebar:
Email opt-in form
"Resource pages" (infographics and marketing guides)
Sharing buttons, or on the homepage, buttons to 'like' or follow KISSmetrics
What do all of those things have in common?
I'll tell you: they are the most important things on your sidebar!
With one single scrolling sidebar, the KISS team has all of the important stuff in view at all times.
No need for "above the fold", the good stuff is always in sight!
This also cleans up the post content really well.
Why?
With the opt-in and social sharing always present, there is no need to put them into the post anywhere (no need for footer opt-ins, social buttons everywhere, etc.)
Some really cool stuff by the KISS team, you should look into seeing if it would work for your blog.
2.) "Mini" Feature Boxes
You've probably noticed the rise in the use of "Feature Boxes", largely started by Derek Halpern over on SocialTriggers.
You see them everywhere now, I'm even rocking one on my site!
What you might not have noticed, however, is the smart use of "mini" feature boxes on the inside of posts.
Two of my favorites come from SocialTriggers itself and from sites like PassivePanda.
You'll notice that the feature box on post pages (ie in a post and not the homepage) is different and more "compact" than the one you will find on the homepage of the site.
This is not to not be overly aggressive and to make sure people don't become "blind" to seeing the homepage feature box.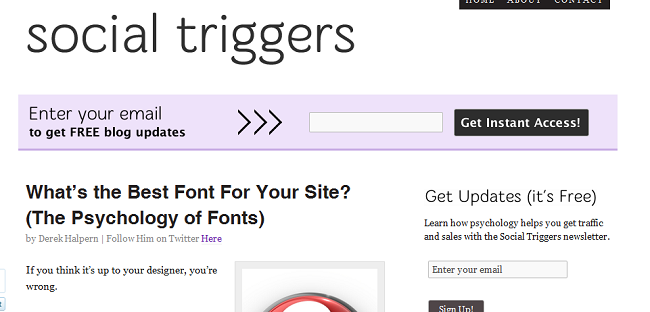 I've talked with Derek via email briefly about how it's been working, and he says the conversions are good enough to warrant keeping it.
In a nutshell: it works.
It helps keep something above the fold that stands out and asks for an email, but it is also less intrusive than a full feature box on every page, and also stops people from becoming "blind" to the main feature box.
Combined with adding an opt-in on the footer of posts (and of the site) and adding the classic sidebar opt-in, you will be aggressively chasing emails without being too annoying.
3.) Click-to-Subscribe Options
One of the biggest changes I'll think we'll see in 2011 for opt-in strategies is the "click to subscribe" type of opt-ins.
Once again, KISSmetrics is leading the way in this field.
Just check out this little widget at the bottom right of their site:
Just a little pop-up (similar to the ones on WordPress.com) that asks if you'd like updates. The tool they are using is their own, it's called KISSinsights.
Sure, that's cool and all, but what happens when you click it?
Do you get taken to a regular landing page, where you might lose the conversion?
Nope, you get taken to Facebook connected AWeber opt-in that already has your information filled out.
Pretty smart.
(That's my real email by the way, feel free to say hi but please don't spam me :))
It doesn't end there though.
With tools like HelloBar and the ViperBar, top of page bars can be used for this as well.
Check out the HelloBar in action over on Problogger.
Right now, Darren is using his bar to promote his new e-Book.
However, you could easily replace that noticeable (but unobtrusive) link with a link to the Facebook opt-in, or some other sort of opt-in page (especially if you use tools to pre-fill in subscriber information, such as if they've left a comment before).
The "click to opt-in" strategy is great because it grabs attention without being annoying.
It's also really easy for people interested in subscribing, and the easier it is to subscribe, the more people will.
The Facebook option (available on AWeber, here's a link to the post explaining it) is especially good because people often stay logged into Facebook, making it easy to pre-fill in info.
Whatever opt-in method you use, these "click to subscribe" tools can really boost conversions while still keeping readers happy.
[box type="note"]This post is part of our Blog Contest! If you like it, support the author by sharing it and adding comments. Also make sure to check other entries by visiting the blog contest page.[/box]