Why Should I Learn about Typography Design?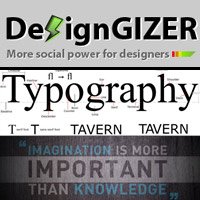 Another big part of design is typography. Typography is an art, designing your site around bad typography is just a waste of time. For me, I love typography, I enjoy seeing a great design that features typography as their main element. Then again, I also love seeing a web site that use the right type font in their site design.
So What Exactly is Typography?
As mentioned before, typography is an art form. But what exactly is typography? Typography uses type design, arranging type, and glyphs in the creation process. Those that use typography in their work are typesetters, typographers, graphic designers comic book designers, and graphic artist. Those are just a few of the fields that use typography in their work.
Now that we securely live in a world where almost anyone can be a web site owner / designer, it comes in handy to know a little about typography, such as what is, how it works, and why it needed in their design.
Why Do I Need Know More about Typography?
You may be asking yourself, would I want to know about typography?. I am not a designer and I contract my design work so I don't have to do it myself, so why should I learn about typography? First off, this statement is a big reason why you want to at least understand typography. There are a few designers out there, that may not know or understand typography. So during the design process, you need to know just enough to know when to call their B.S. or not approve their design if they use the wrong type of font on your design. Just knowing a little about typography could end of saving a small business a lot money.  As for some of the other reasons why you might want to know a little typography would be, logo design, banner design, new paper ads, mailer ads, and business card design. What are some of reason why you might want to know about more typography?
NOTE: I am NOT a typography professional or a guru at this type of work. I am simply an admirer who is learning more about typography to add to my design arsenal.
Typography Resources
Today, I want share some of my favorite articles on the topic of typography. I have found some of what I feel are the best design inspirational articles and tutorials to create killer design work. I found most of the these articles using DesignGizer and several other design websites. The articles will showcase what typography is all about.
Inspiration
I came across this article on DesignGizer and I believe the article is worth reading. Its has a lot of information about typography in the various mediums including TV and magazine design. After reading this article I found a lot of good information and some great examples of typography design.
Here is a great list of typography design. The listed design works are great examples of what you can do with Typography and design.
This is another great list of creative typography art work. There are a mixture of movie poster designs and other popular design works that can be found across the web all list here for us to view.

This is great list of typography inspiration. If you find one you like, you can download it and use it for your desktop.
Looking for a catchy business card, something that is different? Take a look at these killer business cards. Hand a card like one these to one of your potential clients or a social media meet up. You and your business will surely be remembered!
Tutorials
A came across these tutorials a few months ago. These are some of the best typography tutorial around. There are some examples of typography design and they all give you a chance to learn how each typography design works and what you need to make them. These tutorials are not designed to be added to your website. But, they could be used to create logos and banners for your company. Once you find a tutorial you like, try and make it work around your company theme. Most of these tutorials are for advanced PhotoShop users. If you have that advanced knowledge or good at directions and figure things out, then you should be able to do these tutorials.
This list of tutorials are great. They focus on 3D text effects created using Photoshop. There are so many methods to build 3D text, here are just a few samples of how you can build 3D typography. I have looked into these tutorials and would say most are not to hard if you are skilled or knowledgeable about PhotoShop. Since you do need some advance knowledge of Photoshop, I give these tutorials an advanced rating. But most are a little easer that the first listing of tutorials.
Earlier this year, I stumbled onto this cool tutorial. This typography effect uses a variety tools in Photoshop CS3 or CS4 to create an awesome text effect. This tutorials uses color blending, layer styling, lens flares and images to create a unique text effect that will surely get your readers attention! This tutorial is very done and goes into great detail and does not leave anything out. Once again, you need at least a basic knowledge of PhotoShop CS3 or CS4. I give this tutorial a advanced beginner level.
This article is all about analyzing some of the best examples of typography in design. The author also gives us a great list of tutorials as well. The tutorials are very easy to follow and are high quality. Some of the tutorials are easier  to do and if you know the basic functions, of PhotoShop you can do them. There some listed that are more advanced. Look them over and see which ones you can do and try them out. Its one of the easiest ways to learn PhotoShop and graphic design techniques.
5.
100+ Must Check Tutorials for Creating a Logo in Photoshop
For those looking for logo design using 3D typography and graphic design, this is the link for you. There a lot of tutorials with a variety of designs. You find tutorials by some of the top designers from around the world. You have a variety tutorials from easy to hard.
This is it!
In this article we have learned about typography, and why should we know more about typography design, and we included some useful tutorials and resources, I hope you will like it, and I would love to hear what you expect us to write about next time, also if there is something particular related to design you need to get information it, let us know.