3 Ways To Get 200% More Twitter Exposure
Is Twitter dead as a traffic generation source? Not at all! After Twitter introduced the t.co shortener it allowed bloggers to track directly how much traffic was coming from Twitter.
Interestingly, many saw t.co coming up as the top referrer or at least in the top 5. With Twitter still being a major driver in traffic for news sites, it is crucial to know how you can increase it even more.
Recently, there was some very interesting data published from Buffer, who analyzed their user base, here is a short summary for you:
"People that start to Buffer their Tweets increased clicks on links they posted by 200% within 2 weeks of using. The amount of retweets doubles on average. Finally Buffer users increase their follower count by 104 followers within 3 weeks on average."
Buffer is an intuitive App, that allows you to queue up Tweets and have them schedules these Tweets automatically for you at optimal times.
Looking at the research, there were 3 key drivers that showed us why Clicks and Retweets increased so drastically after people started to use Buffer.
 1.) Post Tweets More Frequently
The first crucial point was that Buffer enables users to Tweet more frequently in a very intuitive way. Whenever you are reading an article, you can add it to your Buffer as a Tweet via the browser extension.
You don't have to worry, whether you have already Tweeted a few other things before as Buffer will automatically space out your Tweets. Neither will it go to waste if you are reading late at night. This was a great incentive to fill up your Buffer more frequently and have a constant stream of great content for your followers available: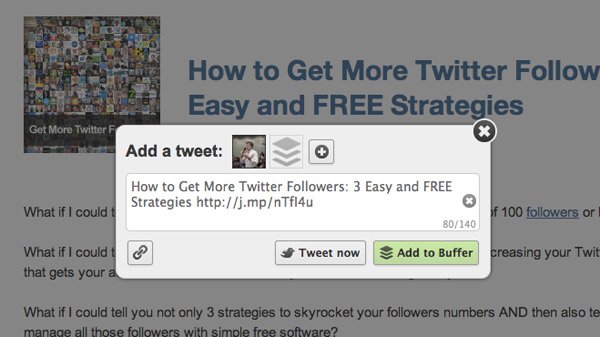 2.) Post Tweets Featuring Many Different Sites
Another interesting find was that Tweets, which contain a great variety of links to different blogs and news sites perform a lot better. Naturally, if all you are Tweeting is only links to your own site, your followers will gradually stop clicking through.
The idea here is to find the top posts from various sites in your niche and be generous in promoting their content. Ultimately, it will increase clicks on your own posts that you can slip in every now and then.
3.) Post Tweets At Optimal Times
Lastly, and equally important is the aspect that Buffer posts Tweets for you at optimal times. These are determined and picked, based on Twitter peak times. The algorithm of Buffer then puts these times as default times inside your settings. Of course, you can always go ahead and change those times to your own personal needs: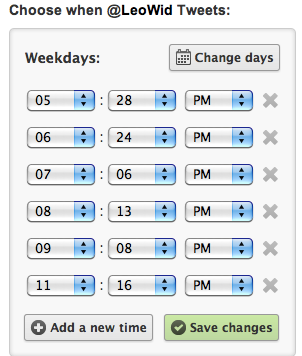 Now, of course, you are right to say that these tips aren't actually anything new to you, yet with this App it might just have become a little easier to achieve. Personally, I am spending about 10 minutes each morning to fill up my Buffer and that's all.
What do you think about Buffer? Could it help with your Tweeting habits too? Let me know below. You can give it a go here: Buffer.
For more information on the methodology and findings you can read more on the data on the Buffer blog.