Coffee Addict Starbucks Cake, Want Some?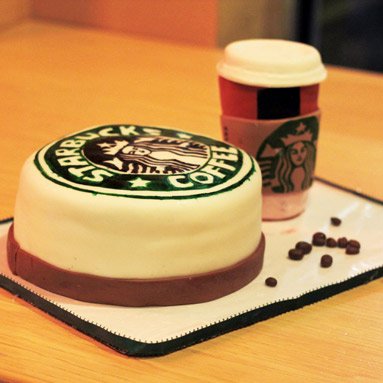 Hey everyone, we are about to enter a whole New Year. I personally had a good 2012,  and I hope you've enjoyed big success in business, and on the personal side as well.
I wish I could meet all of my online friends and fellow bloggers in person. I would love it if we all live in one big city. I remember when I first moved to the States, I had no friends that time being in a new country, and doing my work from home office, so there is no much for me out there, but I couldn't handle it for so long, I felt the need to change my mode and work atmosphere, probably the whole work space. That's how it all started.
I used to hangout by myself twice a week in a near by Starbucks to have my triple espresso and enjoy a sunny day.
Just like any other online social network we know, I think of Starbucks as a social network, the only difference is that it's an offline social network. So, I've decided to move my work space over there whenever I feel to. The good thing is I had the chance to meet with some cool people, I work, and enjoy my addiction to coffee.
Coffee Addict?
Not sure if you know this, but I am a coffee addict, I never say no to a good cup of Turkish coffee, but because Starbucks doesn't offer it, I go with three shots of espresso as it's the closest thing to what I am used to.
Oh, and speaking about coffee, you should check my friend Danijela's blog CoffeeStylish.com, it's all about coffee.
Anyways, to cut it short, here is your share of the Starbucks cake 🙂
Starbucks Cake
Yes, that's what I am talking about 🙂
Yesterday, I had a nice Starbucks cake with my offline friends haha, I've ordered it especially for that night, so basically it's a custom made cake, and it taste coffee. Anyways, nothing is left, so don't get excited.
Want some? check out these pics and imagine you was there, that's the beauty of the internet 🙂
Shots has been taken by Trevor Stockman's Camera.
My wishes for more success at 2013.