Are Sinister Sites Stealing Your Link Juice?
"I can no longer sit back and allow conspiracy to sap and impurify all of our precious bodily fluids."
– Stanley Kubrick's, Dr. Strangelove
There was a conspiracy hatched against me recently.  If not for my watchful eye, hardened discipline, and unwavering diligence, the unsavory plot may have succeeded.
Allow me to elaborate.
One of my pages received a Trackback posting. A Trackback appears when another site links to one of the articles on your blog. We all like it when we get a link, of course, and in a spirit of comradery, we allow a Trackback onto our page. This Trackback is a link back to their site.
The Trackback itself a feature of a WordPress blog and doesn't require the other site to actually do anything for the Trackback to appear. The Trackback is completely under your control.
It's kind of like a link exchange, except you get the better part of the deal. Friends link and Trackback to friends. And if a major site links back to your article, you quickly become friends 🙂 The Trackback is like a Badge of Honour, letting your visitors know that your Content is so good that other sites want their own readers to see it.
Nefarious Sites with Sinister Intent
But there is a dark side to all of this.
Today when I opened my email, I saw a Trackback from a site I didn't recognize. When I went to the site to check it out, I found a low-traffic site stuffed with advertising, and with a NoFollow link to my article. In other words, this was not a legitimate link to my content, so they had no business expecting a Trackback on my page.
Besides linking to my article, my description had been changed, apparently to fit his own keywords. My word, "Niche," was changed to, get this— "Hidey-Hole" ?!?!?
At least one other word was changed as well. I don't know if the site owner did this himself or if it was part of the software he is using to pull things from other blogs to populate his site.
Now, read the last line of the of the description in the screen shot below. It's crossed out in the Chrome browser to show that it's NoFollow. What's the idea of anchoring the search engine, Bing, with his goofy keyword, "Hidey-Hole market,"  and the URL of my article? It would seem an attempt to screw up my Keyword.
And if all that is not bad enough, if you look closely, you will notice at the top in his breadcrumbs, he also posted me under his Category, "Niche Marketing on Crack."
That's just nasty!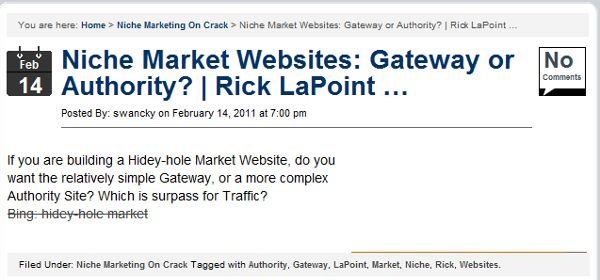 In the screen shot above, I removed the big display ad that dominated the link box. As I said, everywhere you turn on this site is a carpet of advertising.
When reviewing his stats, I saw that his Alexa is 27 million, which means zero traffic. These types of sites usually never see a visitor. They are Leaches—Vampires dwelling in darkness.
Several things are going on here.
Even though he was only linking to me, he was still using my content in some way to populate his own Sinister Site
His link to me was NoFollow, but he was hoping to receive DoFollow from me—he set up a One Way Street at my expense to drain my Link Juice and give it to himself.
It would appear he is trying to "Re-Anchor" my URL Anchor Text to make me look bad to the Search Engines
Over the last month or so, I have seen several articles about Sinister Sites stealing content whole, which goes way beyond simply stealing the description.
Article theft has happened to me here with my last article for FamousBloggers. It's happened when I've written for other sites. And it has happened with content from my own sites. Article theft is part of blogging it would seem, and it can be a constant battle trying to get these things deleted.
But this is a different twist on an old idea.
They Come for You When You Least Expect It
Many blogs are set as DoFollow as a service to their readers who comment. This gives them a link back to their own site.
When a legitimate site Trackbacks, I allow it to remain on my page. But if I don't recognize the domain, I will investigate. If it's a Sinister Site, I remove it immediately. Otherwise I could be giving them a DoFollow backlink.
Last Thanksgiving one of my articles was linked by a major site, and a Trackback appeared on my page, which was great!
But then Sinister Sites began stealing the major site's article in its entirety, which included the link to me. I began to be hit by Trackbacks for 2 days from all these Sinister Sites—for awhile, every 15-30 minutes. I was forced to turn Trackbacks off completely for a couple days because I couldn't keep up with deleting them all.
You don't want a Trackback link to a Sinister Site
because Google may look upon you unfavourably.
How to Protect Yourself
I do keep in mind, however, that there is a bit controversy about just how much juice a Trackback will give to the other site. A Trackback may not be recognized by Google as having any weight. But what concerns me is that I don't want any "connection" being assumed between the Sinister Site and my own. Leaving a Trackback is tacit approval of the other site.
You have several ways to deal with a Nefarious Trackback:
Watch every day and remove them immediately
Turn OFF Trackbacks altogether
Turn OFF DoFollow for your comments and remove Trackbacks as you see them
Ensure your comments are always moderated, or only non-moderated after X number of approved comments
Content scraping, nefarious linking, and other practices are here to stay. Google has indicated they are trying to deal with these sites, because having them show up in the search results is a bad reflection on Google, as well.
There is no need to sit back helplessly and allow black hat villains to steal your precious Link Juice, especially when it's so easy to prevent.
BTW, If my article was good enough to steal, it must be worth reading: Niche Market Websites: Gateway or Authority?
Now it's your turn.
Tell me all about YOUR Horror Stories in dealing with Sinister Sites!