The 3 Critical SEO Factors that Small Businesses Need to Get Right
In addition to my personal projects on the web, I've done web design/setup and local SEO for businesses in my area for quite some time.
In my time operating my one man Delaware SEO company, I've come across many small business owners making some huge mistakes with their SEO efforts.
Worst of all, sometimes it was because their SEO guy (that they paid good money to do work) was making these mistakes, which is simply inexcusable.
Below I wanted to outline the 3 critical factors that you need to realize about local/small business SEO if you are ever to succeed in utilizing it successfully.
1.) Better Traffic > More Traffic
If there is one thing I want to warn small businesses against when pursuing any kind of SEO strategy, it's this: don't go for the "most" traffic possible, go for the BEST traffic possible.
What good is SEO for your small business site if the bounce rate is over 90%, or you're ranking for terms that aren't converting, or worse, are outright misleading?
I take pride not only in getting visitors, but in retaining those visitors, and for good reason: SEO is a waste of time if you aren't getting the right people to your site.
Check out this screenshot from a brand new client site:

As most of you webmasters will know, that's not too shabby, and an excellent indicator of whether or not you are reaching the right people with SEO.
Let me tell you one of the worst offenders I've encountered…
I was working for a client who was previously paying some guy $100/month for SEO (HA!) and was wondering why he had lost his rankings recently (DOUBLE HA!)…
Worse yet, he was trying to rank for "[his city] roofing company"… and he didn't even run a roofing company!
He actually ran a powerwashing company that focused on roofing… yet he saw that "____ roofing company" had more queries so that's what he tried to rank for.
Needless to say, not only was the site not ranking very well, but the few people he did manage to get on site were off in a few seconds: the avg. visit duration was less than 30 seconds.
Yuck.
Don't let this happen to you!
Focus on 'medium difficulty' keywords you can rank for, and more importantly, rank for terms that interested customers are searching for, not just any old semi-related term with a decent amount of searches per month.
2.) Define Your Preferred Outcome: Focus Relentlessly
This is an aspect that you would think doesn't have anything to do with SEO, but it certainly does.
Not only is defining your "preferred outcome" essential to getting more conversions, it also helps reduce your site's bounce rate, which in turn has been argued to effect your site's rankings.
Let's take a look at a comic that perfectly defines a few sites that do things notoriously wrong, aka college homepages: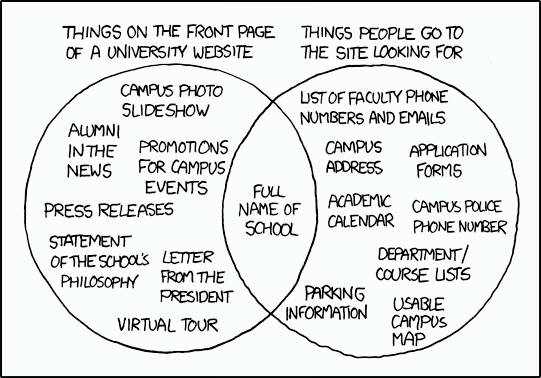 University Website source.
In a nutshell: nothing you want to find on the homepage is there!
Your small business needs to define what the best possible leads are that can be generated from your website.
This can be as simple as:
More phonecalls
Contact form submissions
Email sign-ups
Buying the product "on-site"
Then, you need to structure your site on making that outcome as easy as possible to reach.
It absolutely kills me when small brick-and-mortar businesses have a website and the phone number is listed in a tiny font at the bottom of the page!
If you want more phone calls, it needs to be big and above the fold, because
If people don't know where to go, they will always find an exit.
You also need to make "additional information" easier to find, in case they need to find out more about your services.
This includes info on the team members (with pictures! People love seeing who they are buying from, especially if you're good lookin' ;))
It can also include things like your company blog, which is a great information tool as well as being a fantastic SEO tool.
Speaking of which…
3.) Don't Underestimate the Power of Blogging
One of the biggest misconceptions with small businesses is they think that they don't need a blog to rank.
Well, I guess they don't need a blog to rank, but it certainly helps, big time!
What blogging helps with (besides being an optimal way to inform/persuade customers and act as a great jump-off for inbound marketing) is that it allows you to rank for smaller search terms that can have a combined benefit.
Typically, many sites (not just small business sites) break their keyword choices down into 3 options:
Main Keyword (homepage)
'Body' Keywords (site pages)
'Tail' Keywords (article keywords)
Let's break this down with an example…
I was once working for a construction company who was trying to rank for 5 different keywords on their homepage: needless to say, they weren't doing very well.
So, I had them break down their keywords into the above 3 categories.
We then focused on a main keyword for the homepage (it had the most searches and was really relevant), and then created pages to rank for the 'body' keywords.
The main keyword was for a large area (aka "[state name] construction") and the body keywords focused on surrounding smaller areas (aka "[city name] construction).
Lastly, we picked up some major search traffic by starting a blog for the site and targeting "hyper-local" keywords, or keywords within districts.
We also created a few informational posts to post to the fledgling Facebook page, obviously nothing went viral, but it generated more traffic to the site and more people recommending the company to their friends.
This brings me to my last point…
Focus Is Key, Long Term Results Will Follow
So many small business companies I've worked with just don't "get" the benefits of long term SEO, aka building great links and running a small-time blog to attract visitors.
They want results next week, yet don't understand that the only way to achieve that is to get links from places that will likely end up hurting the site in the long haul.
Take 'er easy as they say, keep an eye out for opportunities to drop your site on local pages, events, and even local news (your SEO guy should know about this, if not, hire someone else).
Basically, for small business SEO, you need to focus more on building a small hub for your business that generates the right kind of leads, not a static page that aggressively tries to rank for every keyword under the sun.
If you'd like to learn more about content marketing for your small businesses' blog, definitely check out Sparring Mind.
Thanks for reading!
Image © kbuntu – Fotolia.com