Who would recommend ShoeMoney System for me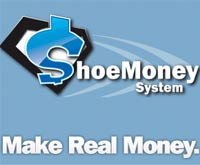 All of us heard about the world famous internet marketer Jeremy Schoemaker and also a Famous Blogger and a real online money maker, Jeremy has a making money system called ShoeMoney system, probably you will find so many bloggers promoting and talking about his system these day regarding the new launch of 2010.
Schoemaker worked for the last 12 month on putting together his ShoeMoney system, and make good deals with major companies to give members of his course free money (there is coupon codes for over $2500 for every new member) and walk them through these companies systems step by step to teach them how to make money by the same way he did it and spent the last year creating over 300 videos to show members how to do everything. Watch the intro video to ShoeMoney system.
The course covers the most popular website monetization methods, such as donations, Google AdSense, paid subscriptions, contextual advertising, affiliate marketing, and some other ways!
How much ShoeMoney system cost?
Rather than asking for the whole payment of the course at once before starting, ShoeMoney system gives you the option to go by monthly payments, it's a membership fees start at $197 a month.
I have seen the videos and I like Jeremy's style in general, you can watch Jeremy talking about how much ShoeMoney system is promising, you are going to like the 6 Ways To Make Money Online.
Any Affiliates?
Oh! yeah, all the links on this post actually is affiliate links, ShoeMoney System Affiliate Program is 50% Lifetime Payout Affiliate Program using clickbank as the tracking system, so I suggest you register through the link at the footer of the ShoeMoney page, and get some banners for your blog, you maybe able to earn from it if someone register through your link!
I need your opinion
As this course is a step by step and it's mainly for beginners, I find myself familiar with some of these ways of making money online, but you know that maybe it's a good idea to enter this system and see how this works by being so much carouse, but sense I have read so many reviews of ShoeMoney system I got a little confused because some people says it's going to be great and some others think that it's better to stick with your money in your pocket and try some other way to learn!
I don't think that I will drive a red Ferrari or have a big villa on the beach very soon, but I think the only way to know all about this is to try ShoeMoney system by myself, so I am going to ask you to give me an opinion about it, any personal thoughts, or if you are experience with this system or even any other making money courses then it's going to be very interesting to hear from you, and I will really appreciate if you do so as I am going to pay money in a few days and enter the ShoeMoney system.
So, any advise?