New Search Engine Traffic by Q&A System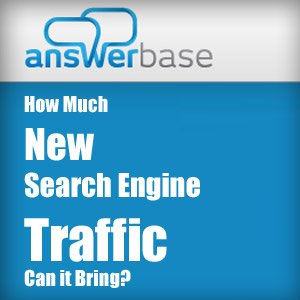 I've always been interested in Q&A (Questions and Answers) websites, the reason is this type of site plays a big role in content creation. It can generate real content from real people, and the interaction keeps the site fresh and updated all the time as people ask questions and others -who may know the answer- answer them and share their experience. This creates a trusted environment and builds an amazing supportive community.
Do Q&A sites attract free web traffic?
You might be asking yourself right now, why should I build a Q&A site? And what has this got to do with my blog?
Here is my answer: I personally like to expand my business by building more online assets and I follow the idea of building more than websites to stream income. I don't think that one website is enough to achieve my online business goals. We've discussed this topic here on the blog (read the comments on this post which indicates that one blog is not enough to make real money online), but running more than one blog is not that easy and will usually require outsourcing to get things done.
But what if you can do this without having to do a lot of work, or generate content by yourself, not even outsource any tasks?
It's pretty simple, launch a Q&A site, do some promotion and watch it grow!
AnswerBase has recently published some stats from one of their clients that show how much new search engine traffic this type of site can attract. It does make a lot of sense to me, especially as Q&A sites have a unique nature. They are regularly updated with fresh and useful content for visitors, which makes the search engines crawl and index the sites more often.
This will increase traffic to your site rapidly in a short period of time, (we are talking here about one year or so) and you will own an amazing site for your business. Read the full post about attracting new search engine traffic.
The very interesting thing is the traffic you are generating to your site will benefit your community members as well by participating in the community and being useful to others. This will allow them to get traffic from your site to their own sites or blogs. I came across this MOZ article that talks about Why Q&A sites can boost your SEO which indicates that this type of site has great benefits for smart internet marketers, and this is probably another reason why you should pay attention to Q&A sites in your niche.
Why AnswerBase ?
If you are looking for building a Questions and Answers website, or add this service to your already established blog, then AnswerBase is an excellent Q&A application, it has all the features that you will need, and much more.
Examples of Q&A sites
Here are a few examples of Q&A sites using AnswerBase: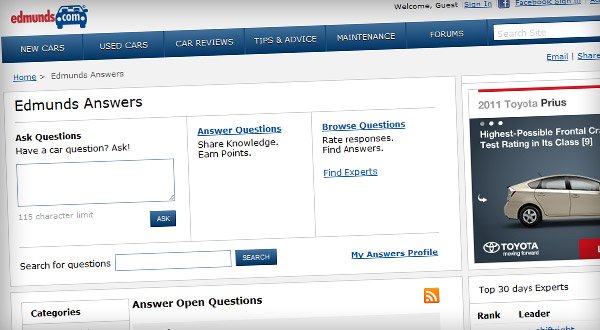 Edmunds Answers, this could be my favorite, I love cars!
Apps questions and Answers, nice idea for a Q&A site!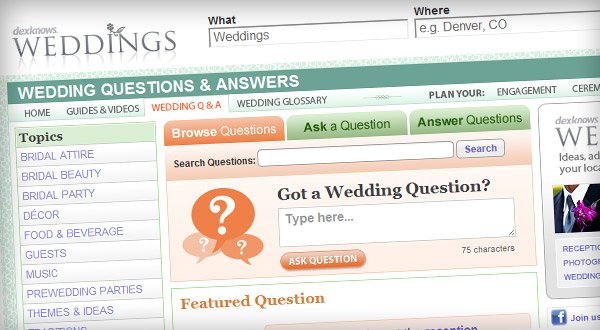 Weddings Answers! Really nice and elegant website, I love it and I like the design of the site!
Final thoughts!
If you are planning to build your Q&A site, then my advice to you is: Don't create a general website that discusses a wide open topic, this will take you years to succeed as you will have to compete with the monsters of Questions and Answers sites out there. The best way to do this is to actually narrow the site categories to your business niche, focus the site on only one topic. By narrowing your targeted niche, you are increasing your chances of success.
I gave AnswerBase application rating of 5, which is the max I can give. This is to show my admiration to Q&A sites and the effort of people behind them.