How to Use Mini Sites to Generate a Monthly Income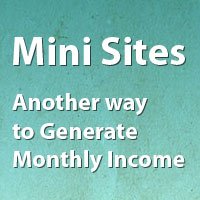 I have recently come across the idea of mini sites. I first heard about mini sites from Patrick over at One Million By 30 where he has created a great tutorial about how to set up mini sites.
In one of his posts he mentioned Glen from PluginID who has created a cool ebook called Cloud Living. In the ebook he talks about the two ways he makes money through the Internet. One of it is from his blogs and the other one from mini sites that he has created.
I have recently bought the ebook and it's really useful so let me try to help you understand what mini sites are about.
What is a Mini Site?
Mini sites are basically websites that only contain of 1-5 pages, that's why they are called mini site. The main purpose of mini sites is to make money. You do this by focusing on a very narrow niche and try to rank for solely one keyword in a search engine. There is also another strategy that relies on PPC campaigns to get traffic to the mini site but most of the mini sites rely on SEO.
On your mini site you are promoting a product but only one that you have used yourself and that you believe in. Then you link to the actual product through an affiliate link and once someone buys the product you start to earn money. That's the whole theory behind mini sites.
Basic Approach
Creating a mini site can be broken down into several steps. Here is the basic approach:
Picking a product
Researching the competition
Building the mini site
Generating Traffic
Optimizing the Site
I am actually creating a mini site myself at the moment so I will see how it works out in the end. Even if it doesn't work out too well I will still have gained a lot of useful experience which I can definitely use for my next project.
The Benefits of Mini Sites
The biggest benefits of mini sites are that once you have gotten them to a certain point they start to generate cash automatically without you having to worry about these sites too much. But this is also one of its weaknesses.
The problem here is simple. If you just let the website run itself then you might miss out on opportunities to optimize the site. It's important to remember that what works today might not work tomorrow that's why I think it's important to keep optimizing your mini site.
Update: If you are interested, then read my recent article about How to Build a Mini Site, I hope you will find it useful.
Have you already built a mini site? How do you like the idea of creating mini sites? Would you like to hear more about mini sites and how you can build them?