50+ One-Liners To Kick-Start Your Link Baiting
Link baiting sounds like a nasty thing, but if you think about it, link bait is nothing more but something interesting that catches your audience's attention.
It's become the recent SEO buzz, no question about it, and just about replaced the term "natural one way link building".
The idea behind link baiting is to create something major that people will want to naturally link back to. It can be as labor intensive as an extensively researched tutorial of sorts or as simple as creating a fun infographic everyone would want to embed on their sites.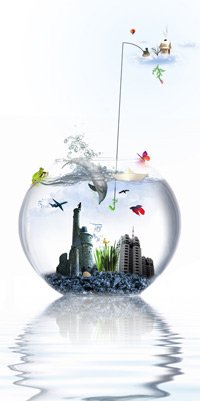 Here are some 50+ link baiting ideas to get your imagination going:
1. Write "Dear Abby" posts.
2. Write a tutorial.
3. Give away your very best content and some.
4. Be current – write about tomorrow today.
5. Create a mock head-to-head competition among bloggers.
6. Be timeless – write a post that will remain current for years.
7. Write with "everybody is entitled to my opinion" attitude.
8. Make a post that inspires.
9. Write a post that causes controversy.
10. Make your own "best of the best" list.
11. Do a 30-day challenge.
12. Break news.
13. Make news.
14. Write short, laconic posts.
15. Do interviews with the "cream of the crop".
16. Use polls, giveaways, and other eye candy.
17. Write long, conclusive posts.
18. Start a blog meme.
19. Challenge fellow bloggers by writing something nearly borderline about them and close comments.
20. Write about pros and cons of an issue.
21. Add to the list started by another blogger.
22. Make readers depend on you by sharing your expertise generously.
23. Write about blogging.
24. Blog about writing.
25. Take an alternate position.
26. Write a post for beginners.
27. Write about stuff that most people want to read about, like Web 2.0.
28. Write an advanced post.
29. Write a list of 101 people, blogs, topics in your niche.
30. Write about Google.
31. Write about Twitter.
32. Disprove a myth.
33. Interview parties with opposing views.
34. Research a topic and post your findings.
35. Integrate references to sports in your posts.
36. Post with personality.
37. Create cornerstone content.
38. Write exclusively about a certain theme for a week.
39. Ask a question everyone else is afraid of asking.
40. Point out something ironic or contradictory.
41. Write a series of posts.
42. Create a widget or plugin.
43. Tell a story through pictures.
44. Leverage April Fool's day with an outrageous truth.
45. Write a satirical post.
46. Use an outrageous photo.
47. Aggregate ideas, tips, etc from numerous places/blogs into a blog post.
48. Write a post about a scam.
49. Be opinionated.
50. Make a post simplifying a complex problem.
51. Be undeniably interesting for years.
52. Write stuff people want to read and share.
53. Pray (always a good idea)…
54. And here is your full insanely huge list of 202 tips to increase blog traffic through link baiting.
No, link baiting is not a bad thing… when done right.
Image credit: askdzigner