Congratulations to our Guest Blogging Contest Winners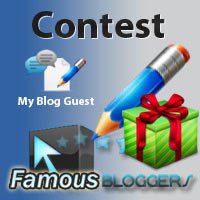 Finally, we have reached the step before the last on our guest blogging contest, and I must say that I din't have too much fun with any other contest I have organized before. Today we are pronouncing the winners,it was not a very hard decision because I followed a mix of simple techniques to collect and calculate points, so…Congratulations to our five winners, and good luck for the others!
First we have to start with thank you and congratulations!
Special Thank!
I would like to thank everyone who gave his/her effort and time to participate on our contest, we have received 20 excellent articles, and we picked 5 winners, but we believe that we all winners today!
I would like to thank Ann Smarty for being our media partner for such great support.
And special thanks to our contest sponsors, they were kind enough to make our blog happy by supporting our guest blogging contest with $712.75 worth prizes 🙂
How we will split/divide Cash prizes?
First I would like to explain how we decided the winners of our contest to make everything clear to you. I had to put up a vote on polldaddy.com to help me deciding how to split/divide the cash prizes, and voters decided that the First place $125, Second $80, Third $50, and here is a screen shot from the results:
How we decided the 5 Winners?
Ok, here is exactly what I have done, I contacted with a few trusted bloggers & fellows from out of the contest and asked them to evaluate the content of articles by giving a number of 10, I was thinking that it's so hard for me to decide alone, so I must involve someone else to help on this, I have received 2 replies as some of them apologized for being so busy, so… that's not a big deal 2 evaluations plus mine makes it 3 which is fair enough if we take the average, then add another evaluation depending on the quality of comments and interaction between author and commentators on his article, and finally I looked into the twitter counter, I found the less tweets was 11 and the max was 342, so… I set Twitter points as one point for each 10 tweets/retwets from the Topsy button counter, and at the end I have put also more consideration for those who read the contest guidelines well and responded to it perfectly, so I thought to give them some extra points which changed the expected results upside down!
I am NOT your Nanny, but…
Some participants didn't pay attention while reading the contest guidelines, they didn't post about the contest, they didn't add sponsors links even that I posted about those contest guidelines again and tried to explain to you how it will work on my Lessons from our Guest Bogging contest post, I also had to contact some of them just to remind them and try to help them out with winning the contest, but I must say that this affected your results so badly, I can not be your nanny and tell you all what you have to do while it's quite clear, so this could be a lesson to learn from if you are participating or going to participate on another contests, plz… read the contest guidelines and follow them!
Content is King & Social Media is a Tool!
Let's face it, I put all averages together in front of my eyes in one table and I took a deep breath!
The evaluation was depending on the quality of the articles, and whether it adds any new information, help, tips and tricks to help both experienced and newbies levels, which means content is kind, and social media is just a tool to complete the work! I am putting here the table so you can see how I did it, and if you don't understand the table above… Then, just never mind, forget it 🙂
I can not wait more longer to pronounce the winners!
Congratulations to our winners
#1 – Gerald Weber of Houston SEO blog For his cool tips on How to Put the Kibosh on Content Scrapers & Thieves?
#2– Andrew Rondeau of Blogging Guide for his awesome 43 Blogger Tips – What you should do after installing WordPress
#3– James Johnston of Evolutionary Designs for his On-Page SEO Tips to Help Drive Organic Traffic to Your Site
#4– Onibalusi Bamidele of Online Success for his thoughts about the Elements of Successful Bloggers
#5– Chadrack Irobogo of Home business marketing blog for his 4 Invaluable Blog SEO Tactics You Must Not Ignore
We will contact you soon!
Thank you so much for all participants of ourGuest Blogging Contest, I am so sure that we all are winners!
We will be contacting our 5 winners during next week to deliver all prizes! Also we need the PayPal accounts for the first three winners to be able to deliver cash prizes, so if you read this before we contact you, why not drop us an email and tell what's your PayPal account if you would like to enjoy your weekend having a few extra $$ 🙂
Have any questions?
Below is a comment section, would love to hear what you think about the whole contest idea, your thought, and also your objections… I will reply to you!