Guest Blogging Contest for Publishers: Get Free Content to Win $1000 (MyBlogGuest)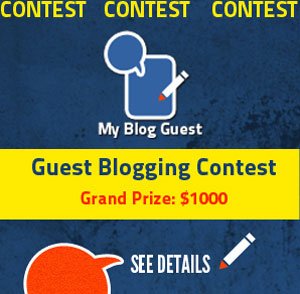 At the very start of 2012 MyBlogGuest.com, the free community that connects bloggers to guest authors, is proud to announce our very own guest blogging contest for publishers: get free unique content to qualify for a $1000 grand prize!
At MyBlogGuest we have supported various guest blogging contests which encouraged guest authors to submit articles to one specific blog and compete for its popularity in social media (FamousBloggers' own recent best affiliate product blogging contest is a great example).
Our brand new official contest is a bit different: in it *publishers* take part instead of the writers. Here's what I mean:
A blog owner uses our Articles Gallery to grab unique articles for his/her blog;
Then the blog owner publishes the guest post and shares the link in our official thread inside the forum;
(Optional but essential for the win) The blog owner helps spread the word: shares the post in social media and gets additional traffic and exposure (which benefits the blog in the first place!)
In mid February we pick the most popular guest post and the most active user and award him/her with $1000!
Publishers don't need to do anything extra besides publishing free content! No need to link to sponsors, no need to disclose the are taking part in the contest (unless they want to) – this makes this contest the easiest one you have ever seen!
*Publishers get free content, free exposure and free money (if they win of course) with absolutely no additional responsibilities attached!*
To qualify:
The blogger needs to be a registered user of MyBlogGuest.com
The blog needs to be of Google PR 2 (at least).
The contest runs through January, 1 to February, 15 (all the guest posts have to be published within these dates).
Here's a quick video on how the Articles Gallery works.
Here's also our official contest press release.
Good luck!
[youtube=http://www.youtube.com/watch?v=qoIZ1vteee8]