GoDaddy is a Great Example of how Big Companies Fail to use Social Media
I really don't want to write or review GoDaddy.com as one of the top hosting companies, and the best registrar domain site, but what to do, they always give a chance for a bad review for their service, and specially the fail of their customer service to engage with their clients. Godaddy Twitter account @GoDaddy is a great example of how big companies fail on using Social Media.
Social Media and Customer Attacks
In case you can handle social media, it will raise your everything up to the sky, but if you can not face the public then you will prefer to hide your self and disable your social networking accounts to live in peace from your customer attacks.
Some people like GoDaddy, and some others think that Godaddy is their worst nightmare. You can discover the truth by your self just by searching Twitter, use #godaddy to know what people say about their service, and yeah I remember now the @GoDaddyGuy thing, and I am wondering why creating such account, why using this guy? ah! I got it now.. this is the GoDaddy bodyguard who do the fight stuff and tweet about GoDaddy girls photos and news, and of course some help for the hosting clients wont hurt.
I am sorry Dodaddy
But you really didn't give me any other choice, I just heard someone screaming from your bad service! And this is not the first time, and I am sure that he will not be the last one if you keep treating your clients without enough care.
GoDaddy maybe fast on the road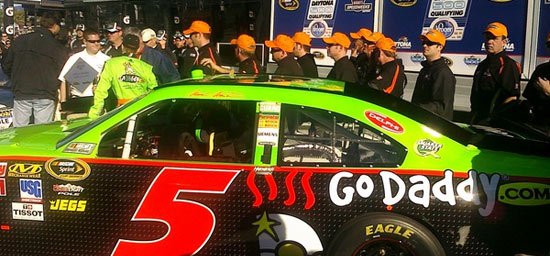 And they are sponsoring Mark Martin on auto racing this year, anyways I am completely sure he is faster than GoDaddy shared hosting! And I hope that they can success with something rather than social media and customer service care.
I remember this post on Mashable.com that says GoDaddy Wants You to Go Twitter, and I say what for Godaddy want me on Twitter if they are not there when I really need them? I remembered that I had to take off my shirt once to get GoDaddy's attention when I needed support after they changed something on my databases which effected my blogs, and it was not the first time they do it, as I remember that day when they disabled my blog database because of WordPress StatPress plugin, and this pissed of my advertisers and made me lost some money. All this made me think to move to another hosting service, and I went for BlueHost.com where I am hosting FamousBloggers.net blog right now.
Although, I don't think this will be the end of hosting road, I will have to manage another hosting account very soon, probably a dedicated server or a VPS hosting environment as I will need after a while. But don't worry GoDaddy I am not going to stop using your service as I am stuck some how because my domain names that I am managing using your service.
GoDaddy.. Why Social Network?
GoDaddy can not handle their clients and provide a high quality costumer service, so why confusing us more with entering to social media world?